Days after one of the show's co-host's joked that her face looked like a "demented" Halloween mask during the most recent GOP debate, Republican presidential candidate Carly Fiorina confronted the women of "The View" live on the air.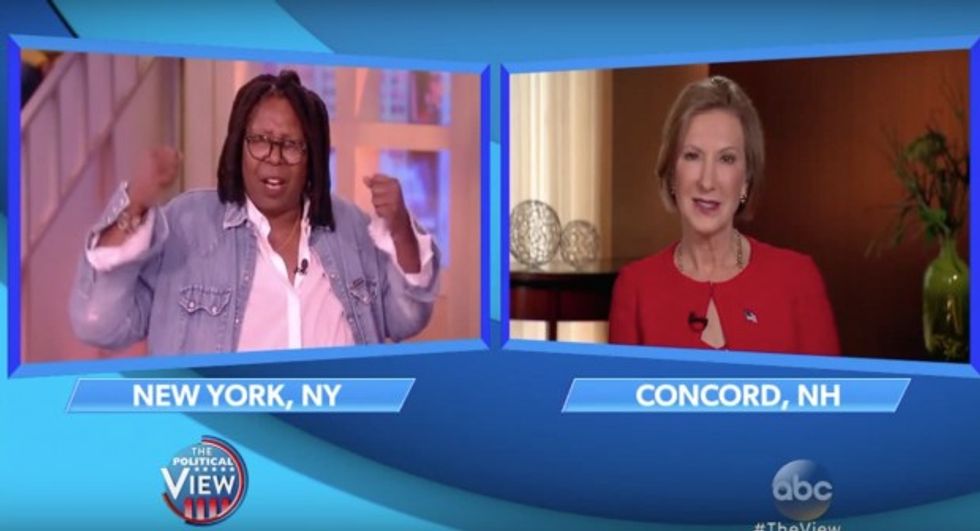 "The View"
Whoopi Goldberg waded into the topic by asking Fiorina how she would get a "thicker skin" to "accept some of the humorous things that will be said" about her.
"If you meant your comment about my face being demented and a Halloween mask is humorous, so be it. I guess you misinterpreted Donald Trump's comments about my face and thought those weren't humorous, because you kind of took him to task," Fiorina replied. "I have a real thick skin."
Co-host Joy Behar claimed the "demented" face comment is different than Trump's attack because the hosts of "The View" are "comedians."
"You know what, Joy? You can say whatever you want," Fiorina added.
Co-host Michelle Collins, the one to compare Fiorina's face to a "demented" Halloween mask, later asked Fiorina if she had people "coaching you to act a different way or to be a different way."
Fiorina didn't seem to appreciate the phrasing of the question.
"Well, first of all, I don't have people coaching me to act a different way or be a different way," she said. "I am who I am. ...There's a time to smile and there's time to be serious."
---