After Houston voters defeated an LGBT nondiscrimination ordinance that critics said would allow men to access women's bathrooms and boys to access girls showers and locker rooms, Annise Parker — the openly gay mayor of the nation's fourth-largest city — was not happy.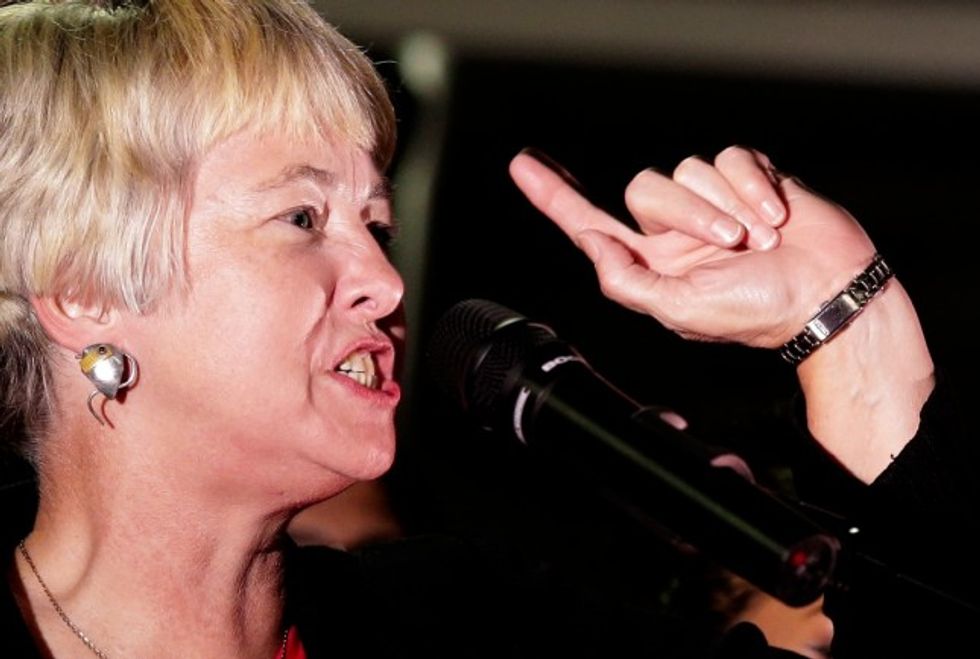 Houston Mayor Annise Parker speaks to supporters of the Houston Equal Rights Ordinance at a watch party Tuesday, Nov. 3, 2015, in Houston. The ordinance that would have established nondiscrimination protections for gay and transgender people in Houston did not pass. (AP Photo/Pat Sullivan)
"All of this about pedophiles going into women's restrooms was an out and out and falsehood, they knew it was a falsehood, and they sold a bill of goods,"  Parker said Wednesday. "That's all I can say. Masterfully played."
But that isn't all she said.
When someone called out Parker for name-calling toward those who voted against the ordinance, she only doubled down on the ad hominem attacks:
@AnniseParker was elected as an openly gay official nine times by the same voters that voted against #HERO and she calls us #homophobes

— Texan 4 Liberty (@Tex_4_Lib) November 5, 2015
No, actually I called you transphobes, but if the shoe fits...-A https://t.co/UwCnDZhu2H

— Annise Parker (@AnniseParker) November 5, 2015
"No, actually I called you transphobes, but if the shoe fits...-A," Parker wrote back.
And with that the floodgates opened, with one commenter on Saturday calling her words "shameful" and others doing much the same:
@AnniseParker Really? A sitting Mayor calling people names? You need to B run out of office on a rail. You work for the people! Shameful!

— WestTexasDust (@WestTexasDust) November 7, 2015
@AnniseParker @Tex_4_Lib If by "transphobe" you mean- "one who believes standard issued equipment should determine bathroom used" then yes.

— AW (@AdoubleU17) November 5, 2015
@AnniseParker What an immature and sophomoric attempt to insult those who disagree with you. Must be a mental disorder

— FergusFSU (@FergusFSU) November 5, 2015
@AnniseParker Name-calling. Very classy, Mayor. And most of us aren't phobic...we are neither fearful or uninformed. We simply disagree.

— Sarah Jane (@chsj135) November 5, 2015
@AnniseParker @Tex_4_Lib Transphobe is a very creative term. I guess the mayor would be a commonsensephobe.

— Clint Miller (@clintmiller62) November 7, 2015
(H/T: Young Conservatives)
—
Follow Dave Urbanski (@DaveVUrbanski) on Twitter