SINGAPORE (AP) — The leaders of Taiwan and China shook hands Saturday at a historic meeting marking the first top-level contact between the formerly bitter Cold War foes since they split amid civil war 66 years ago.
Chinese President Xi Jinping and Taiwanese President Ma Ying-jeou came together on neutral ground in the Southeast Asian city-state of Singapore, walking toward each other in a hotel ballroom in front of a plain yellow backdrop flanked by palm trees.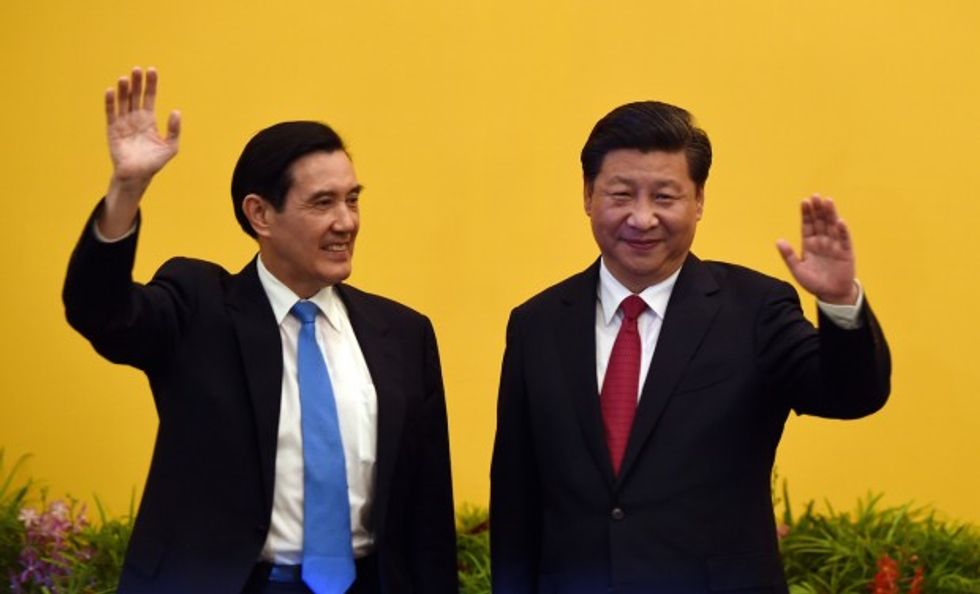 Chinese President Xi Jinping (Right) and Taiwan President Ma Ying-jeou wave to journalists before their meeting at Shangrila hotel in Singapore on November 7, 2015. (ROSLAN RAHMAN/AFP/Getty Images)
The two men smiled broadly as they shook hands for more than one minute, turning slightly to the each side to accommodate a host of photo journalists in the ballroom.
Each leader hopes to seal his legacy as one who helped bring decades of division and mistrust to a mutually acceptable end. But, the meeting is more about the symbolism of coming together than about substance. Both sides have said no agreements will be signed or joint statements issued.
—