Retired disabled veteran Mike Dobbs was at the Carolina Panthers' home game against the Green Bay Packers with his family on Sunday when Panthers quarterback Cam Newton took notice of the banner they were holding.
The sign displayed the Packers logo over the shape of North Carolina and read "North Carolina Cheesehead." Dobbs said the sign cost $500 to make.
Though he first thought Newton was "coming over to talk," Dobbs claimed the star QB instead ripped down the sign and never returned it. The Panthers quarterback later said he tore down the sign to "protect this house," referring to the stadium where the Carolina Panthers play.
"We thought Cam was coming over to talk to us and the crowd around us," Dobbs said, WSOC-TV reported. "Instead he ripped the banner out of our hands. We all thought it was a joke at first and then he did not return with the banner."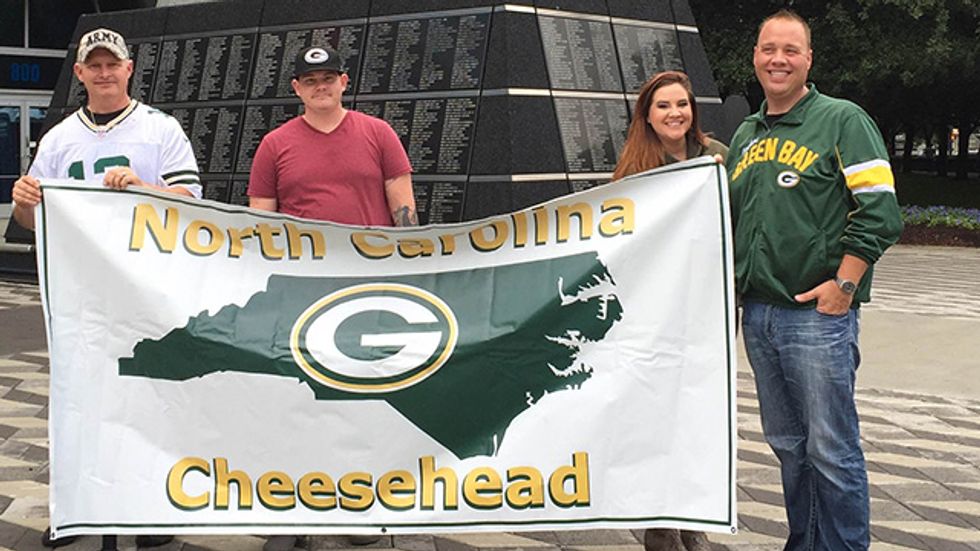 Image source: WSOC-TV
Cam ripped this packers sign from the fans and took it pic.twitter.com/yTHl5ZQfti

— Connor Case (@connorcase15) November 8, 2015
During a post-game press conference, Newton explained his behavior.
"We take pride in having an edge in playing in Bank of America Stadium, of playing in front of the Carolinas each and every week," Newton said. "I feel it's my due diligence to protect this house. It wasn't just about tearing down a sign. It was respect."
When Newton never returned the banner to Dobbs and his family, the disabled vet contacted stadium police to try to get it back – and that's when they learned that the quarterback had destroyed it. Dobbs said he's now considering pressing charges over the $500 sign.
"We played in Green Bay last year, and I didn't see no 'This is Panthers Country' sign in their stadium," Newton said during a press conference after the game. "I was passing. The sign was dangling. Either somebody was going to take it off, or I take it off."
Likening the Packers sign in the Panthers stadium to "sell[ing] a Whopper at McDonald's," Dobbs said he didn't mean disrespect to anyone.
"It's just more of a respect to the stadium," Newton said.
The Panthers beat the Packers 37-29.
---