"Would you kill a baby Hitler?" The Huffington Post recorded Jeb Bush answering the question, and his affirmative response has sparked some pretty interesting debates since it was posted Monday.
The question is not a new one. TheBlaze originally covered the topic back in April. On Oct. 26, the moral dilemma appeared on the New York Times Magazine's Twitter account and had a fairly split response.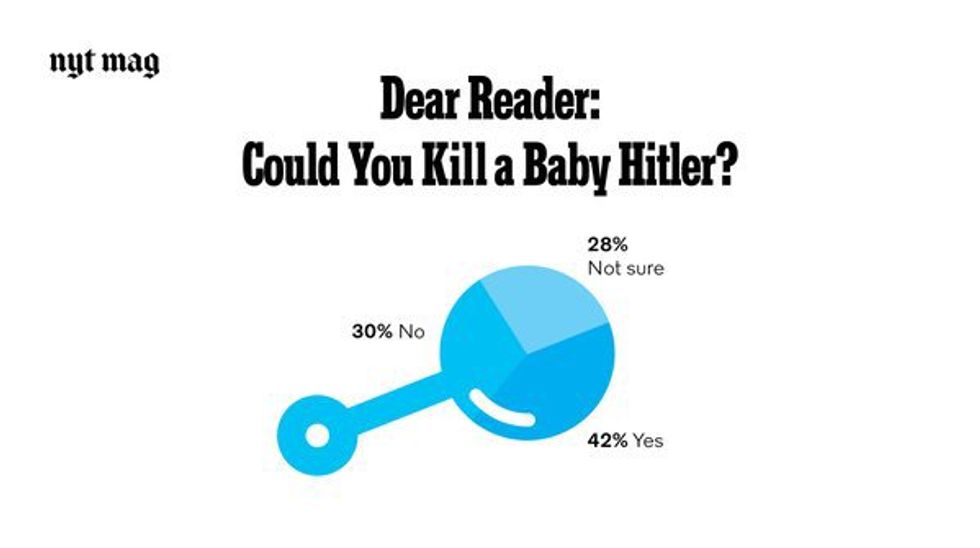 Image source: Twitter
Tuesday morning's panel on MSNBC's "Morning Joe" appeared to agree with Jeb Bush, including guest panelist, Donny Deutsch. "A strong 'yes,'" said Deutsch, adding, "I would strangle that baby and save 6 million lives."
Host Joe Scarborough suggested anyone running for office should find a way to not answer the question, "It seems to me, if you were a political candidate, you can find a way to avoid answering that bizarre question."
Where do you stand on the question?
Take the poll and share your comments below.
__ Follow the author of this story on Twitter and Facebook: Follow @stuntbrain