Former Vice President Al Gore declined to endorse former Secretary of State Hillary Clinton, even though he served eight years as her husband's No. 2, People magazine reported.
"It's still too early, in my opinion, to endorse a candidate or pick a candidate," Gore told People.
Such a reluctance to back the likely Democratic presidential nominee could represent the long-suspected rift between Clinton and Gore.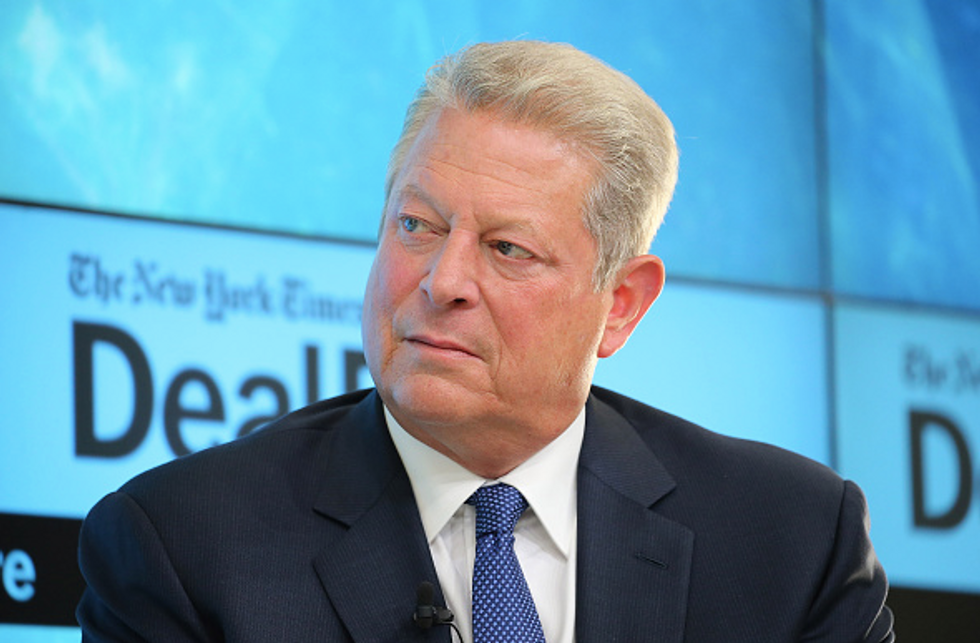 Former Vice President Al Gore, chairman of Generation Investment Management and chairman of The Climate Reality Project, participates in a panel discussion at the New York Times 2015 DealBook Conference at the Whitney Museum of American Art Nov. 3 in New York City. (Neilson Barnard/Getty Images for New York Times)
"Everybody can look at how the presidential campaign is developing and get some pretty clear ideas about how they think it's going to turn out, but I still think it's premature," Gore said. "The election is still a full year away. I think I'll wait to wade into it."
Clinton appears to be the overwhelming front-runner in the Democratic presidential primary, though Vermont Sen. Bernie Sanders has mounted a stronger than expected campaign.
Gore reportedly blamed Bill Clinton for his loss in the 2000 campaign to George W. Bush, asserting the Monica Lewinsky scandal made voters want to punish Democrats. Former President Clinton reportedly argued that Gore didn't campaign enough on the Clinton record.
Since his losing campaign, where he won the popular vote but lost the Electoral College after a prolonged contest in Florida, Gore became a climate crusader, warning about the evils of global warming. He picked up a Nobel Peace Prize and an Oscar along the way.
Asked about reports that his supporters urged him to enter the 2016 presidential race, Gore was dismissive without outright denying it.
"I have taken no steps whatsoever in the direction of a candidacy and my answer has been the same for 10 years now — or more — and you probably heard my answer before: I'm a recovering politician and the longer I go without a relapse, the less likely one becomes," the former vice president said.