As two armed men walked into Daysi Baquiax's title store to rob her, Baquiax's reaction had one man focusing more on her well-being than on stealing from the store.
"I said, 'You can shoot me, I just had surgery. I have a lot going on in my life," Baquiax told one of the robbers, according to KHOU-TV.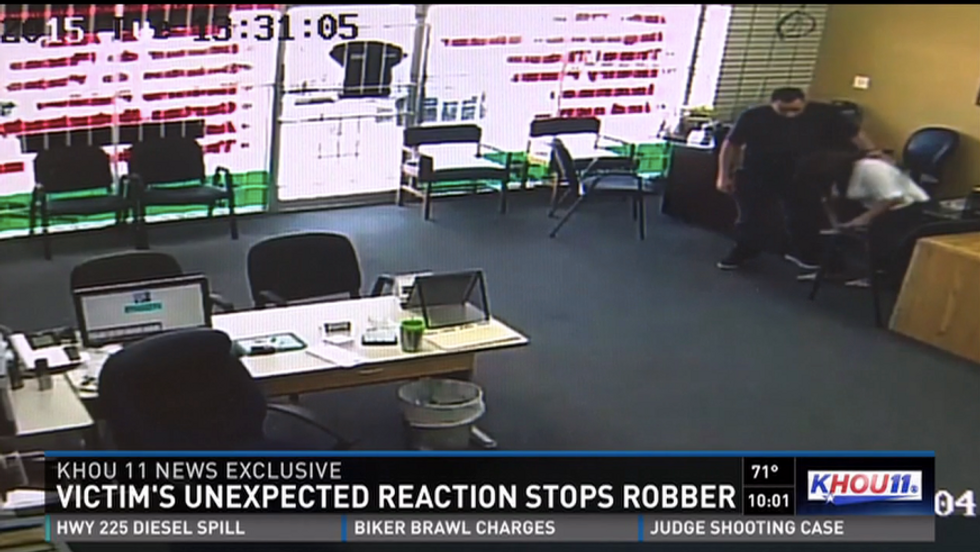 Image source: KHOU-TV
Baquiax said that she lost it when the men walked into her store to rob her and that she didn't realize the extent of her reaction or what really happened until she saw the surveillance footage later. As she was clearly distressed about what was taking place, she said one of the armed men approached her, but instead of harming her, he put his arm around her and attempted to comfort her.
"He said, 'no, I'm not going to hurt you. God has a purpose for you,'" she recalled the one man telling her.
While the one robber comforted her, the other man stole a hard drive and cash, KHOU reported. The man who comforted the woman did take a laptop and warned her not to come out of the store.
According to KHOU, police are investigating the incident, which was all caught on surveillance footage,
"It's kind of shocking, but like I said, you know, I do believe God has a purpose for me, and it's not, I can't go right now," Baquiax told KHOU.
(H/T: KHOU-TV)