Republican presidential candidate Donald Trump continued to express his dislike of eminent domain while defending it as at times "needed" — such as in the case of the Keystone Pipeline — after Tuesday night's GOP debate.
Speaking with a reporter from MRC-TV after the debate, Trump said as president, he would "need it on occasion."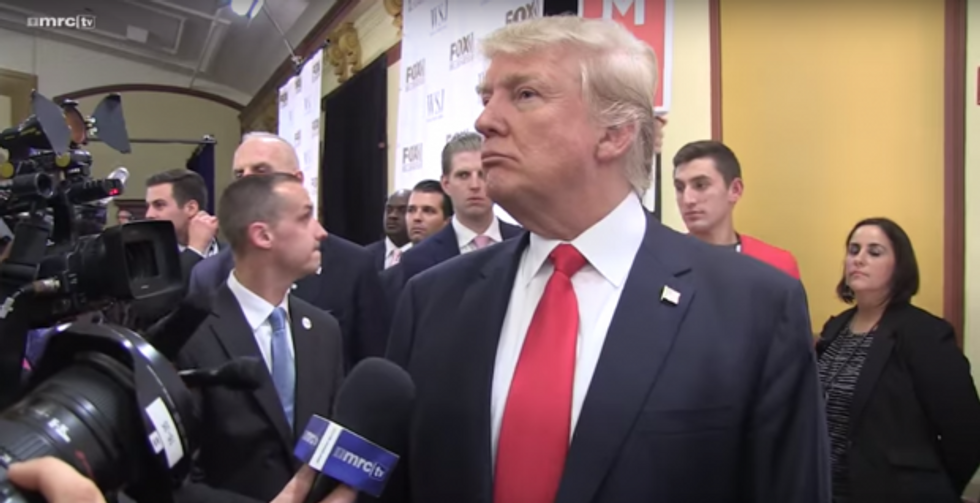 Image source: YouTube
"You need to build roads, you need to build highways. I don't like eminent domain, but you do need it to build roads, highways, and as an example, the Keystone Pipeline," Trump said. "You're not going to build it unless you use eminent domain."
Trump has previously discussed his caveat when it comes to eminent domain, saying he would use it only if it creates jobs. In an interview with Fox News last month, Trump admitted that he had battled with a woman in Atlantic City who refused to give him her property so that he could expand a hotel. However, he said he he was actually grateful that the woman didn't concede to him as it "saved him a fortune" when he decided to pull out of the New Jersey beach town.
The business mogul has come under fire from conservatives for his opinions on the government taking private property as, at times, a "necessary thing."
"I am all for private property rights," Trump told the Washington Examiner last week while in New Hampshire. "There's nobody who wants property taken away less than I do, believe me. I would lose a lot of money if my property were taken away. But when you're building a road, when you're building a highway, when you're building whatever it is you're building from a municipal standpoint, you may need a corner of a piece of property."
"If you're going to create 10,000 jobs for a town that's in trouble and you need a piece of property, I'll tell you what folks, I want to create jobs and I want to give the people that own that property more than it's worth," Trump said.