Glenn Beck said Wednesday morning on The Glenn Beck Radio Program that he believes Republican presidential candidate former Sen. Rick Santorum (Pa.) has the "best plan" to reform the Veterans Administration.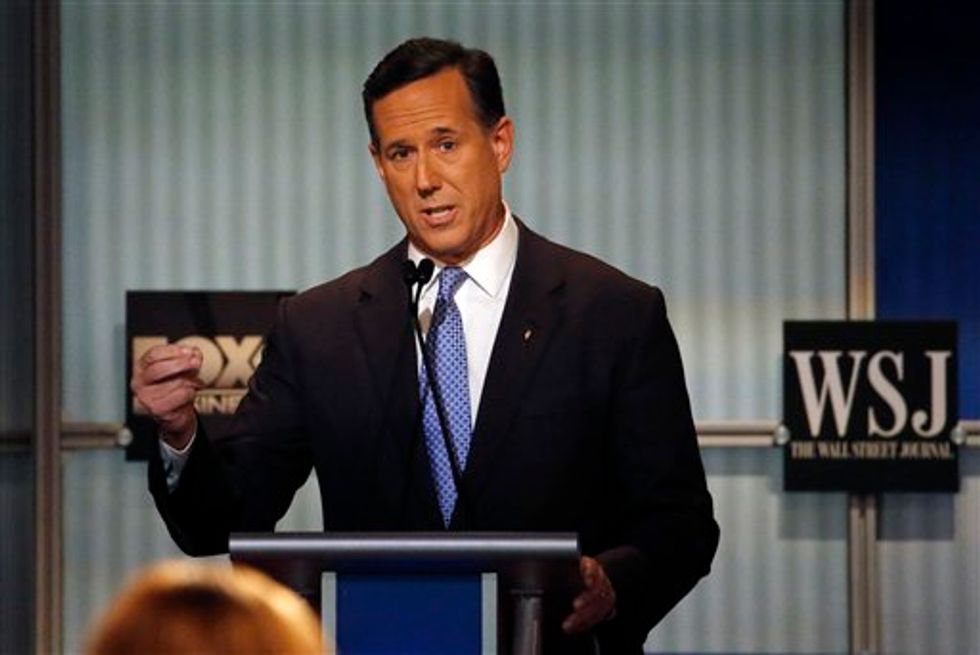 Former Sen. Rick Santorum (Pa.) speaks during a Republican presidential debate at the Milwaukee Theatre, Nov. 10, in Milwaukee. (AP Photo/Morry Gash)
"The best plan I have heard comes from Rick Santorum," Beck told a caller named Josh. "Rick Santorum is a guy who I believe understands the VA scandal and understands that what we need to do is shut the VA down and give you guys access to private hospitals and the private health care system."
In a CNN interview with Jake Tapper last month, Santorum said the government needs to "retool" the VA and give veterans access to the "best care" in private hospitals. Santorum also told Tapper the VA system needs to transition to specialized care.
"Take the VA system to one that specializes in areas where veterans have unique [needs], prosthetics, wound care, PTSD and things related to battlefield injuries that are in some respects unique to our veteran population," Santorum said. "Make the VA more of a center of excellence on areas that the private health care system really doesn't have a lot of experience with."
Santorum's plan calls for moving veterans' care into the private sector for primary and traditional medical care.
While Beck praised the former senator's plan, he told the caller he doesn't believe Santorum has a chance of winning. Of other the GOP presidential candidates who he thinks could handle the VA well, Beck said Texas Sen. Ted Cruz would "take care of the vets" and retired neurosurgeon Ben Carson would be "well-positioned" to reform the VA.
Complimentary Clip From TheBlaze TV The full episode of The Glenn Beck Program, along with many other live-streaming shows and thousands of hours of on-demand content, is available on just about any digital device. Click here to watch every Glenn Beck episode from the past 30 days and receive a Roku Streaming Stick FREE with your subscription!
—
Follow Tré Goins-Phillips (@tregp) on Twitter