Daniel Cohen, a 31-year-old victim of a Palestinian stabbing attack, said he believes God put him in the path of a terrorist whose actions landed him in an Israeli hospital. That's because, while in surgery to repair wounds from the stabbing, doctors discovered, and removed, a previously undetected tumor in his colon.
"The Creator delivered me this surgery in order to save my life, and I was rescued from the attack in that he didn't harm my vital organs," Cohen told Israel's NRG. "Yes, the attack was hard, but I received my life as a gift ... that I will not have cancer, God willing."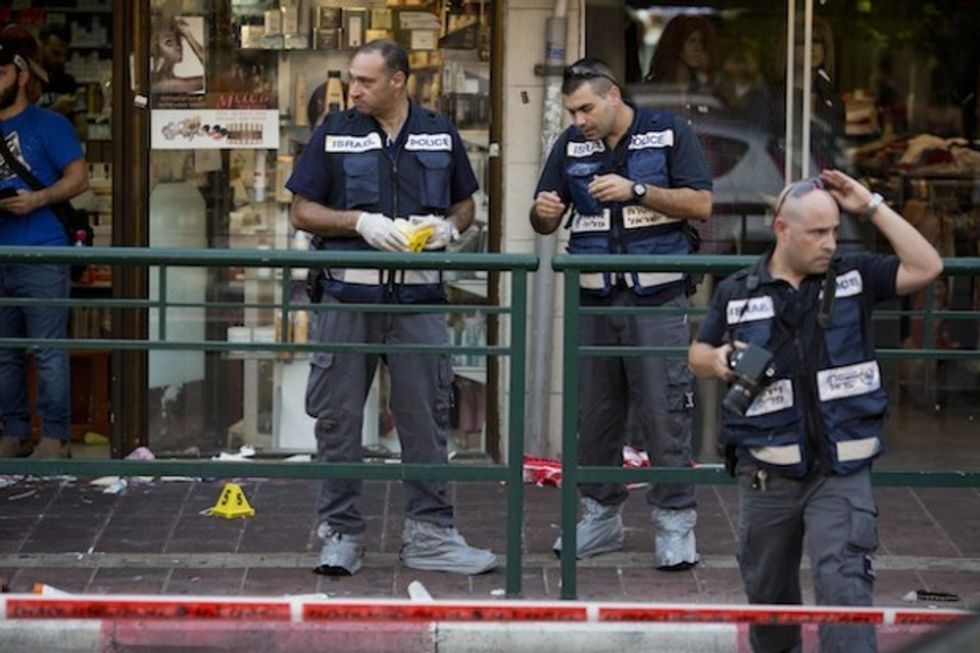 Israeli police officers of the forensic unit work at a stabbing attack in Rishon Lezion, Israel, Monday, Nov. 2. (AP Photo/Ariel Schalit)
Cohen was stabbed last week along with two other Israelis — one an 80-year-old woman — in the Tel Aviv suburb of Rishon Lezion.
The father of five told Radio Kol Chai that he had been waiting at a bus station for his ride to a restaurant where he works when suddenly the assailant pounced on him and began trying to choke him.
"I felt my neck about to break. He took out a knife and tried to behead me, and then he tried for my throat. But I turned my head, and he got me in my jaw. He threw me to the floor and stabbed me along my left side, in the chest, shoulder, and stomach," Cohen said, according to Arutz Sheva's translation of his interview.
He described how he tried to fight back.
"I grabbed his leg and tried to stand. I punched him, but I couldn't get the knife away from him. Someone tried to throw a garbage can in our direction, and then the terrorist ran away," Cohen said. "I was in a very bad state. I ran up to a bus and rapped on the door, and the driver quickly let me in."
While passengers tried to stop his bleeding, the religious Jewish stabbing victim recalled that he began to pray.
Later, during the four hours of surgery, doctors discovered the intestinal growth.
Cohen said that he had been experiencing pain in his gut for a few weeks, "but I didn't have time to deal with it. The attack simply saved my life."