In an effort to be more "inclusive," San Diego State University has cut its long-held tradition of naming a homecoming "king" and "queen" and this year will go with the gender-neutral term "royals," according to The Daily Aztec, SDSU's student newspaper.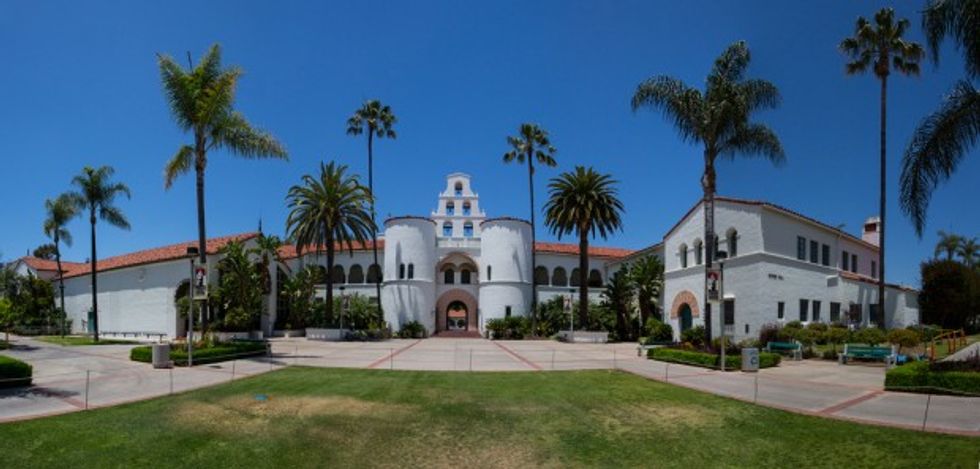 San Diego State University Hepner Hall (Image source: Flickr)
This Saturday, after the Aztecs face off with the University of Wyoming Cowboys, the college will name two final "royals." At this point, SDSU's policy leaves it unclear as to what the sex or orientation of the finalists is likely to be.
"During the application process, candidates were allowed to select gender-neutral pronouns to identify themselves," the Daily Aztec reports.
According to the paper, the university's goal is to "dispel the common gender binary of categorizing people as solely masculine or feminine." While some support the move, others are unhappy with the new policy.
"It's just a case of the PC police feeling the need to screw with an all-American tradition under the façade of 'progression,'" SDSU College Republicans chairman Jordan Dennison told The College Fix. "Imagine all of the alumni at the game who are going to see that and wonder, 'What the hell was SDSU thinking?'"
SDSU Women's Resource Center Coordinator Jessica Nare, however, says the gender-neutral policy is a "very positive thing."
"We are lucky to be on a campus that is really diverse, and so I think having systems in place that reflect the students on campus is a really positive thing," Nare told the student newspaper. "The reality is we don't live in a gender-binary system and so really recognizing that in a public way is really important and exciting."
Nare said the decision is another step toward creating "safe and brave spaces" on the college campus.
This is not the university's first move toward gender-neutral policy. Last year, SDSU enacted a new policy allowing students to acknowledge their "preferred" gender identity and name on all university records.
(H/T: The College Fix)
—
Follow Tré Goins-Phillips (@tregp) on Twitter