SAN FRANCISCO (AP) -- San Francisco police shot and killed a gunman Wednesday as he took aim at them in the city's Mission District, authorities said.
The shooting occurred as police responded to reports of a person armed with multiple weapons at a construction site near a hospital.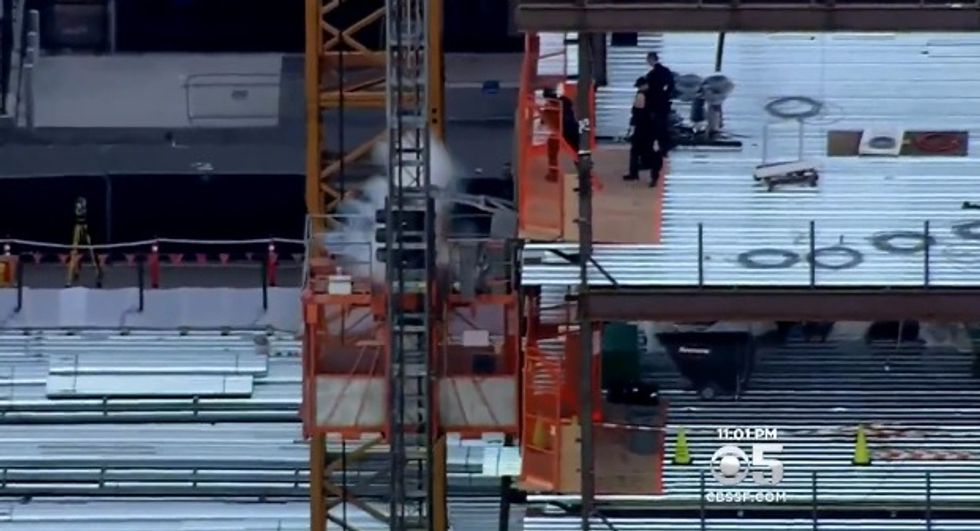 Police returned fire on a gunman, killing him, when he pointed his weapon toward them. He was suspected to have been shooting at a San Francisco area hospital. (Image source: KPIX-TV)
When officers arrived they could hear gunfire then saw the suspect aiming at St. Luke's Hospital, police said in a statement. He then trained his weapon on them and the police opened fire.
Police Chief Greg Suhr said earlier that the confrontation occurred at the building site where a new hospital is under construction. No one else was injured.
Cop with a machine gun just ran in front of my house in San Francisco -- there's someone with a gun on top of St Luke's Hospital

— Tim Brennan (@timbofoo) November 12, 2015
The suspect was pronounced dead at the scene. He was described in his late 20s; his name wasn't released.
Suhr said investigators think the gunman came to San Francisco after acquiring the rifle and ammunition during an armed robbery at a sporting goods store south of the city.
He said they do not yet have a motive.
The hospital was locked down for about an hour as police warned people to stay away from the area.