Israeli Prime Minister Benjamin Netanyahu said Sunday that it was time for the "world to wake up" and come together to fight terrorism which he asserted is fueled by "radical Islam."
"In Israel, as in France, terrorism is terrorism and standing behind it is radical Islam and its desire to destroy its victims. The time has come for the world to wake up and unite in order to defeat terrorism," Netanyahu said at his weekly cabinet meeting, where he also described the attacks as "vicious."
On Saturday, he likened the West's fight against radical Islamic terrorism to a civilizational battle against a "plague."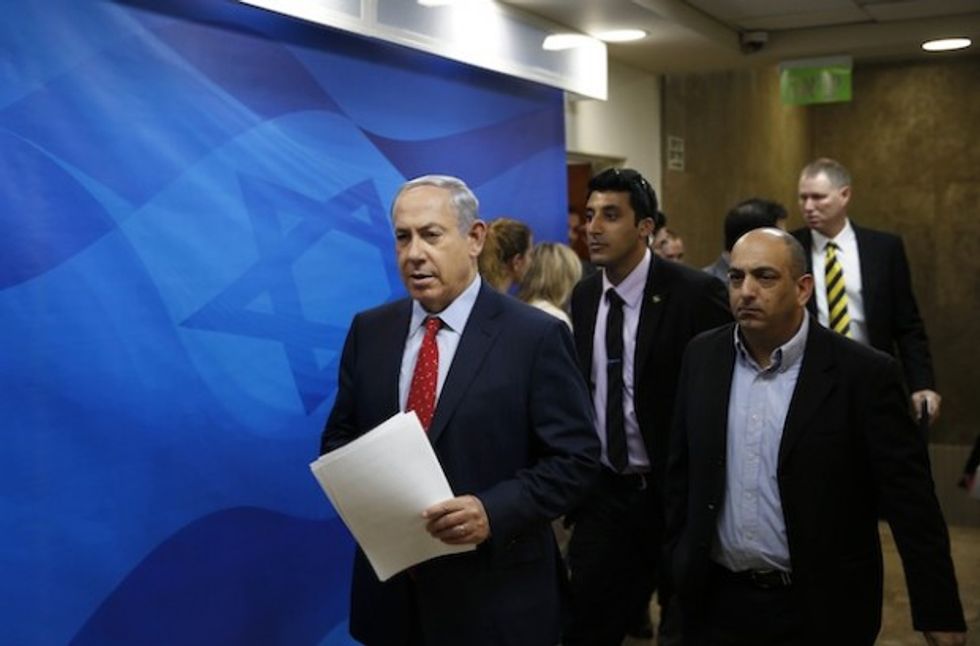 Israel's Prime Minister Benjamin Netanyahu, left, arrives for the weekly cabinet meeting in Jerusalem, Sunday, Nov. 15, 2015. (Ronen Zvulun/Pool Photo via AP)
The Israeli leader said, "Militant Islamic terrorism attacks our societies because it wants to destroy our civilization and our values."
"I call on the entire civilized world to unite to defeat the plague of worldwide terrorism. … It's only with this moral clarity that the forces of civilization will defeat the savagery of terrorism," Netanyahu said.
The Prime Minister's Office posted video of Netanyahu's Sunday remarks with English subtitles:
Comparing the Paris attacks to Palestinian terrorism against Israel, Netanyahu told his cabinet ministers on Sunday, "The time has come for countries to condemn terrorism against us to the same degree that they condemn terrorism everywhere else in the world."
"We should remember – we are not to blame for the terrorism directed against us, just as the French are not to blame for the terrorism directed against them. It is the terrorists who are to blame for terrorism, not the territories, not the settlements and not any other thing," Netanyahu said, adding that they simply "desire to destroy" Israel.
Netanyahu blasted Palestinian Authority President Mahmoud Abbas who condemned the Paris attacks but has not also condemned attacks against Israelis.
Just two days before the multiple coordinated Paris attacks claimed by the Islamic State group, Netanyahu took the European Union to task for setting new guidelines for special labeling of goods produced by Israelis in the West Bank, Golan Heights and Jerusalem, which is widely viewed in Israel as a precursor to an economic boycott of Israel.
The labeling mandate affects only Israeli – but not Palestinian – products made in territories Israel captured during the 1967 war, including in Israel's capital city.
"The EU has decided to label only Israel, and we are not prepared to accept the fact that Europe is labeling the side that is being attacked by terrorism," Netanyahu said last week.
Israel has faced a wave of nearly daily Palestinian terrorist attacks on civilians and security personnel, including stabbings, car-ramming attacks and shootings.
Two Israelis – a father and son - were shot dead by a Palestinian assailant Friday afternoon while they were driving to a pre-wedding celebration for their daughter and sister.
Rabbi Ya'akov Litman, 40, and his son Netanel, 18, were killed near Hebron.
Netanyahu on Sunday announced the arrest of the "reprehensible terrorist who murdered" the two men, noting that the suspected assailant is an activist with the Palestinian Islamic Jihad terrorist organization.
"The terrorists who attack us have the same murderous intent as those in Paris," Netanyahu said.