A Syrian passport found near the body of one of the attackers at Paris' Bataclan concert hall passed through Greece last month, and its holder was registered as a Syrian refugee, Greek officials said Saturday, strengthening concerns raised in recent months that jihadists could hide among the massive influx of migrants to Europe.
France's chief prosecutor offered new information on the seven assailants behind the coordinated attack, noting that they were divided into three teams, were heavily armed with Kalashnikov automatic weapons and were wearing identical explosive belts.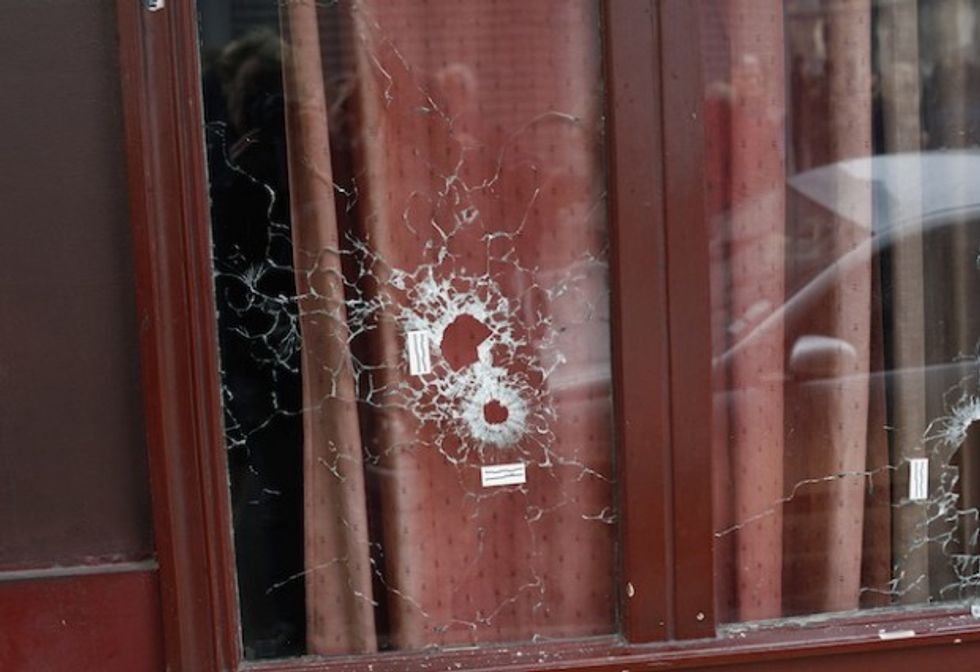 Bullet holes mark the front window of the Carillon cafe, in Paris, Saturday, Nov.14, 2015. French President Francois Hollande vowed to attack Islamic State without mercy as the jihadist group admitted responsibility Saturday for orchestrating the deadliest attacks inflicted on France since World War II. (AP Photo/Thibault Camus)
Six relatives of Omar Mostefai, 29, a man identified as one of the attackers, have been taken into custody by police, Agence France-Presse reported Sunday, quoting a judicial source.
Meanwhile, a black Seat vehicle used in the shootings at a Parisian bar and restaurant was found in Montreuil, a town near Paris, police sources told AFP Sunday. Witnesses had earlier reported seeing the gunmen using a black Seat, French officials said.
French officials said on Saturday that police were focused on two vehicles, the Seat and a black Volkswagen Polo with Belgian license plates that was rented by a French national residing in Belgium.
France's top prosecutor, Francois Molins, told reporters that Mostefai who was born in a Paris suburb had a criminal record.
He was identified when a finger found at the scene of the Bataclan concert hall produced a fingerprint match with French police files.
AFP reported that French investigators asked Greek authorities to check the fingerprints of two of the other men believed to among the assailants killed in the attacks. One of the two bodies whose fingerprints were sent to Greece was found next to the Syrian passport.
"We confirm that the (Syrian) passport holder came through the Greek island of Leros on October 3 where he was registered under EU rules," Nikos Toskas, Greek minister for citizen protection, said in a statement.
"It is clear now that together with the victims of Islamo-fascism in the Middle East that come as refugees, extreme elements are crossing to Europe," Greek Defense Minister Panos Kammenos said Saturday, AFP reported.
Officials were still trying to determine the authenticity of the Syrian passport. European media outlets earlier this year reported on forged and illegally purchased Syrian passports circulating among migrants trying to raise their chances of being accepted as war refugees.
Molins, the French prosecutor, told reporters that seven attackers – all armed with AK-47s and suicide belts - had been killed.
In the attacks on the concert hall, the Stade de France sports stadium, restaurants and cafes, 129 people were killed, not including the assailants. Of those killed, 89 were slain at the concert venue. The Islamic State group claimed responsibility for the attacks on Saturday.
More than 800,000 people have entered Europe this year by crossing the Mediterranean.