As handfuls of people fled from the Bataclan theater in Paris after gunmen entered fire and took hostages, one woman desperately clung to a window ledge and pled for help.
In a video captured by a Le Monde reporter, the woman is seen clinging from the second floor as others scurrying out of the theater — some limping, others dragging injured people behind them. Motionless bodies are seen lying in the doorway below the woman.
"Help, help! I'm pregnant," the woman in the video cried out as she clung to the window ledge.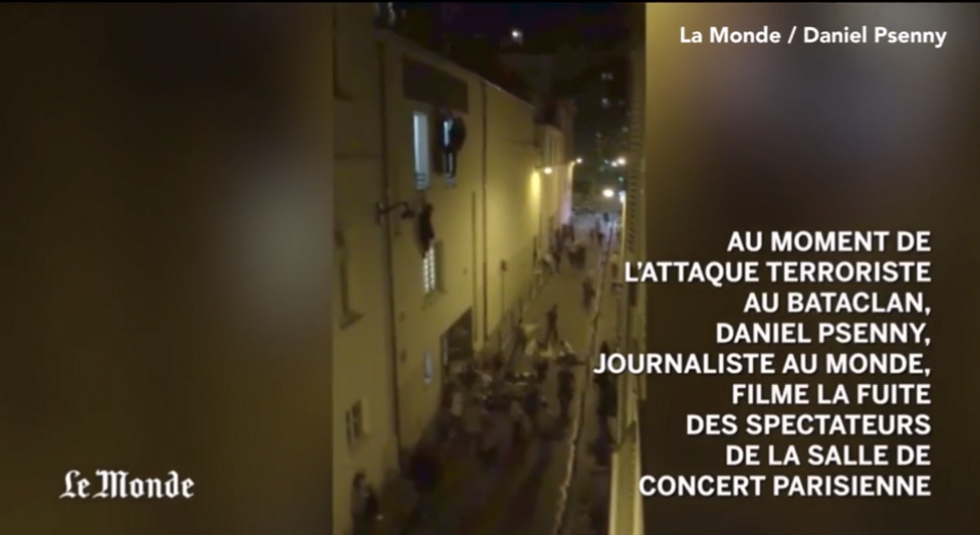 Image via Le Monde screen grab
Two other people clung to a third floor window next to the woman. After one managed to climb back inside when it was seemingly safe, he pulled the woman in through the window.
Toward the end of the video, one of the bodies on the ground moved and a cell phone light can be seen.
According to the Daily Mail, the reporter who shot the video, Psenny World, was shot in the arm while he tried to help those escaping from the concert venue. In his own account for Le Monde, World said the images he saw that night reminded him of the 9/11 terrorist attacks in the U.S.
Watch the harrowing video, which may be disturbing to some viewers, below.