In 2006, Steven Sloan, a blind teacher in the Harlem neighborhood of New York City, was given the honor of carrying the torch in Italy for the Torino Winter Olympics.
A year later, Sloan, whose blindness was caused by a condition known as macular degeneration, was featured in People magazine as a teacher who inspired students with his ability to shoot hoops and stay fit despite his inability to see beyond light and dark.
Now, the New York Post reports that Sloan, 60, was forced to retire a few months ago. His termination came, according to the Post, after a parent complained they smelled alcohol on his breath. He, however, contends that it was Listerine, a mouthwash that includes alcohol as a germ-killing ingredient.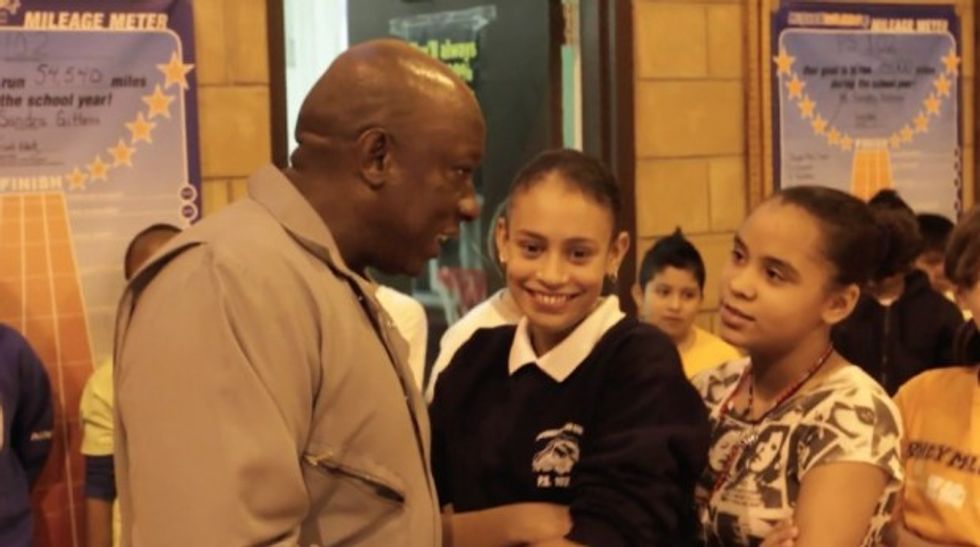 Steven Sloan made an agreement with the NYC DEO to retire, as opposed to being fired, after a parent complained his breath smelled of alcohol and a group of moms accused him of sexual harassment after he said he made a joke. Some of his colleagues disagree with the ending of his career. (Image source: Vimeo)
Here's more from the Post on the Oct. 30, 2014, event that led to his eventual retirement:
After smelling alcohol on his breath, the parent dug through a trash basket in Sloan's office — which was near a doorway to the street — and pulled out a Styrofoam cup she claimed Sloan's assistant was carrying. The "brown liquid" in the cup smelled of liquor. She never saw Sloan holding it but accused him of drinking.

Sloan adamantly denied ever drinking on duty.

[...]

Sloan contends any odor on his breath likely came from swishing with Original Listerine, which has 26.9 percent alcohol, after a spicy lunch.

The city Department of Education charged Sloan with drinking on the job and sexual harassment because he had asked a group of moms that day, "Anybody want to go on a blind date?" Sloan said he used the joke to put people at ease about his disability. But in August, Sloan settled with the DOE by agreeing to retire.
"The DOE took an outstanding career and trashed it," fellow teacher Lisa Ortiz told the Post of Sloan's 29-year tenure at the school PS 102.
Watch this feature on Sloan by the Uptowner a few years ago:
The New York City Department of Education did not immediately return TheBlaze's request for comment on Sloan's situation.