President Barack Obama ripped into Republicans and other critics who are advising that America exercise greater caution when accepting Syrian refugees into the United States at a time when they are fleeing imminent danger in their own country.
"I hear folks say that maybe we should just admit the Christians but not the Muslims," Obama said during a press conference during the G-20 meeting in Turkey Monday in the wake of the terrorist attacks in Paris. He added, "That's shameful. That's not American. That's not who we are. We don't have religious tests to our compassion."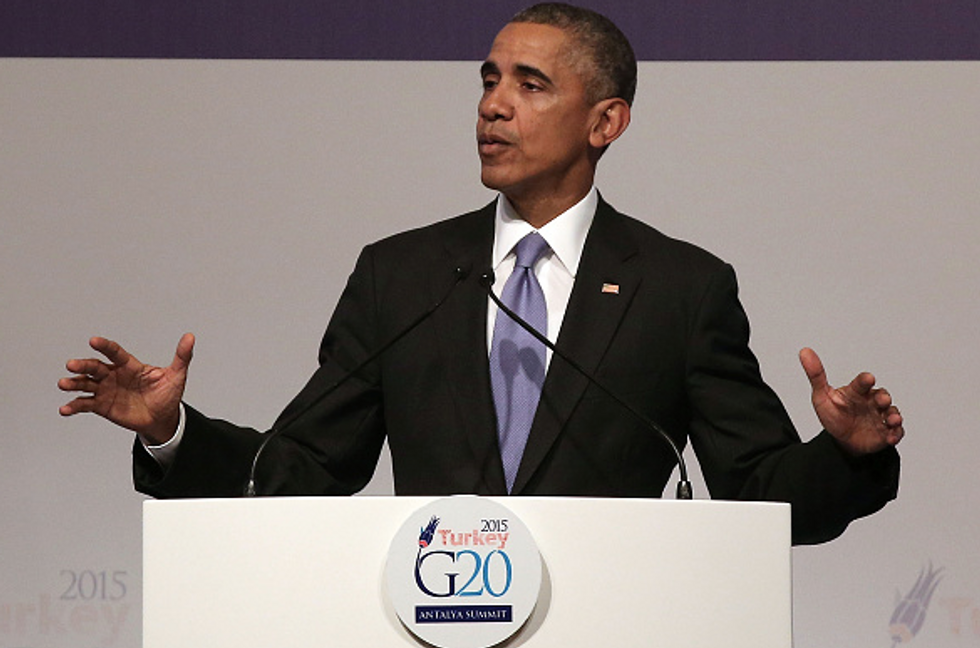 President Barack Obama speaks to the media during his closing press conference on day two of the G-20 Turkey Leaders Summit Nov. 16 in Antalya, Turkey. World leaders will use the summit to discuss issues including, climate change, the global economy, the refugee crisis and terrorism. The two-day summit took place in the wake of the massive terrorist attack in Paris. (Chris McGrath/Getty Images)
Obama even went on to call for Republican leaders to be more like former President George W. Bush.
"I had a lot of disagreements with George W. Bush on policy, but I was very proud after 9/11 when he was adamant and clear about the fact that this is not a war on Islam," Obama said, "and the notion that some of those who have taken on leadership in his party would ignore all of that, that's not who we are."
"On this, they should follow his example. It was the right one. It was the right impulse," Obama continued. "It's our better impulse, and whether we are European or American, the values that we are defending, the values that we're fighting against ISIL for, are precisely that we don't discriminate against people because of their faith. We don't kill people because they're different than us. That's what separates us from them."
The Syrian civil war that began in 2011 has led to the deaths of 250,000 and sent more than 4 million mostly into European countries fleeing the violence. The administration indicated it would take up to 100,000 refugees by 2017. However, after the Paris terrorist attacks by the Islamic State, there has been increased concern about who is entering the United States. Governors in Alabama and Michigan have declined to accept Syrian refugees.
Some critics have called for setting up safe zones inside Syria for refugees instead of bringing them into the United States. Obama said that likely wouldn't work.
"A true safe zone requires us to set up ground operations, and the bulk of the deaths that have occurred in Syria, for example, have come about not because of regime bombing but because of on-the-ground casualties," Obama said. "Who would come in? Who would come out of that safe zone? How would it work? Would it become a magnet for further terrorist attacks? How many personnel would be required and how would it end? There's a whole set of questions that have to be answered there."