New video shows pro-Palestine protesters disrupting an Israeli studies event at the University of Texas-Austin, sparking a tense confrontation with at least one faculty member.
The incident reportedly occurred Friday as the university's Institute for Israeli Studies was holding an event on campus. The Palestine Solidarity Committee of UT-Austin uploaded video of the clash to YouTube on Sunday.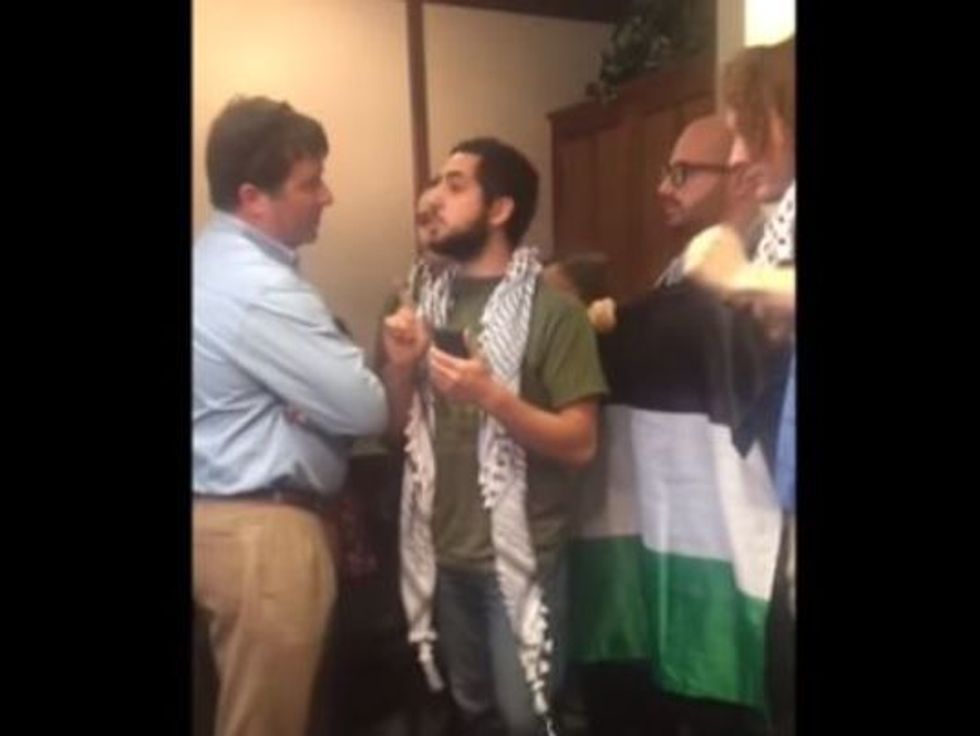 Image source: YouTube
The pro-Palestine protesters were dressed in white and black scarves and carried Palestinian flags as one man, who identified himself in the video as a "scholar," asked them to leave.
"I need to hear what this woman has to say. She is a scholar and she will be heard," the man is heard saying. "I am a scholar. I have to hear what this woman has to say."
"Get out of the room," the self-described scholar continues to shout at the protesters.
"You are students. You know nothing," another man, who the video identifies as Professor Pedazhar, says.
After several minutes, one attendee suggested others let the protesters "say what they need to say." One protester goes on to talk about his great-grandfather who was "murdered by Zionist militias."
"That's what we want to talk about," the protester continued. "We want to talk about the fact that the Center for Israeli Studies exists on our campus to whitewash the state of Israel's crimes against the Palestinian people."
The university responded to the video in a statement to KHOU-TV, saying that it strives to be a place where different viewpoints can be "openly and respectfully" debated.
"The university has existing protocols for protesters to voice their points of view and be heard effectively. We are trying to determine if they were followed in this case," the statement read.
Randy Diehl, dean of the liberal arts college, which houses the Israeli studies program, said his office has been in contact with university police regarding the video.
"We are gathering more information and looking for ways to improve the constructive dialogue on campus," Diehl told KHOU-TV.
(H/T: KHOU-TV)
–
Follow Jon Street (@JonStreet) on Twitter