The Belgian Muslim named by French authorities as the suspected mastermind behind Friday's terrorist attacks in Paris appeared in a video last year saying that, while he found "no joy" in killing, it was "nice to see, from time to time, the blood of the infidels."
"Admittedly, there is no joy in spilling blood, although it's nice to see, from time to time, the blood of the infidels, because we were educated, growing up, seeing all over the world, on TV, the blood of the Muslims, which for decades has been shed," Abdelhamid Abaaoud said from Syria last year.
"Is there anything better than jihad and martyrdom in the path of Allah? What can be sweeter than martyrdom in the path of Allah?" the Islamic State fighter said in March 2014.
The Belgian jihadi rebel fighting in Syria believed to be Abdelhamid Abaaoud, aka Abu Omar Al-Belgiki, says "it's nice" to see "infidel" blood "from time to time." (Image source: MEMRI)
The Middle East Media Research Institute, which posted translated quotes from the video, noted that the jihadist also goes by the nom de guerre "Abu Omar Al-Belgiki."
In the video, he said he was speaking from inside a trench where he and his fellow fighters were armed with "simple" Kalashnikovs, a few RPGs and other machine guns as opposed to their better equipped enemy, "the apostates who are fighting us because we want to instate Islamic law."
"Some of us had to leave behind our wives, our mothers, our fathers, and our property. We left our lives in this world for the sake of Allah, to elevate the word of Allah," he said.
He also held out hope that Allah would "break" the backs of his enemies and "exterminate you."
"Allah willing, He will exterminate you in the world and the hereafter," he said.
Another video of Abaaoud emerged last year, which purported to show him loading a pickup truck with bloodied corpses.
The Associated Press reported that independent journalists Etienne Huver and Guillaume Lhotellier obtained images of him last year when they were on a reporting assignment at the Turkish-Syrian border.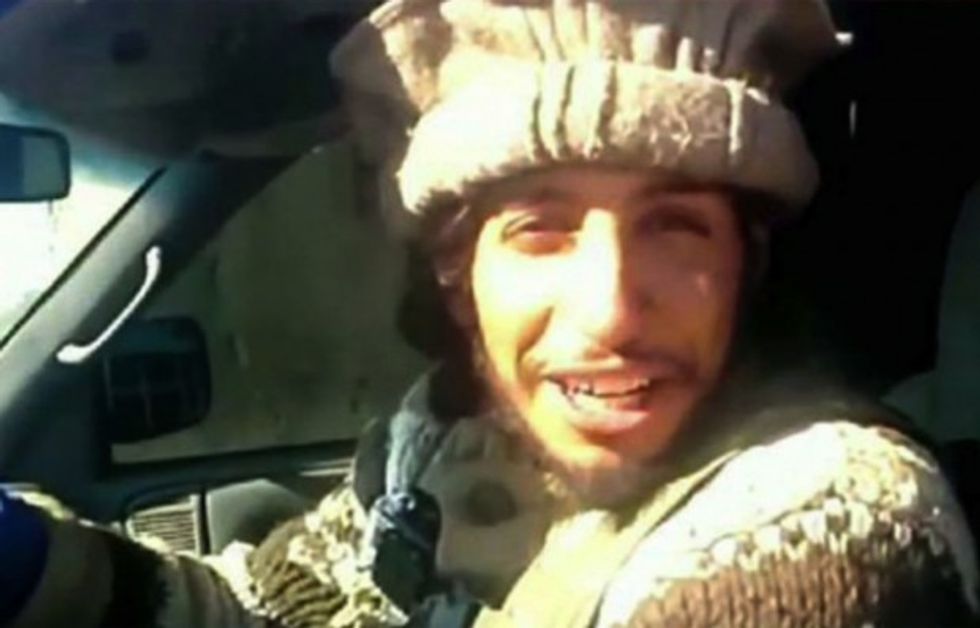 This image is from a video apparently showing Belgian Abdelhamid Abaaoud last year piling bodies on a pickup truck. A French official says Abaaoud is the suspected mastermind of the Paris attacks and was also linked to thwarted train and church attacks. (Image source: Militant video via AP)
Those photos and video showed him and his terrorist comrades loading a pickup truck and makeshift trailer with "a mound of bloodied corpses," the AP reported.
Abaaoud smiled and told the camera, "Before, we towed jet skis, motorcycles, quad bikes, big trailers filled with gifts for vacation in Morocco. Now, thank God, following God's path, we're towing apostates, infidels who are fighting us."
The AP described the son of Moroccan immigrants as "once a happy-go-lucky student at one of Brussels' most prestigious high schools" and reported that the militant recruited his 13-year-old brother to join him in Syria.
An unnamed French official told the AP that Abaaoud is believed to be linked to earlier terrorist attacks, including one on a high-speed train thwarted by three American tourists over the summer.