Sports officials are often on high alert for athletes using performance-enhancing drugs, but taking a banned substance is not the only thing the International Paralympics Committee will be on the lookout for at the upcoming 2016 games in Rio de Janerio, Brazil.
They'll be looking for the unusual practice known as boosting, which is when an athlete causes pain to themselves in order to increase their blood pressure before an event. Two common ways of achieving this, according to the IPC include, for men, twisting or sitting on their scrotums or clamping a urinary catheter to result in a full and painful bladder.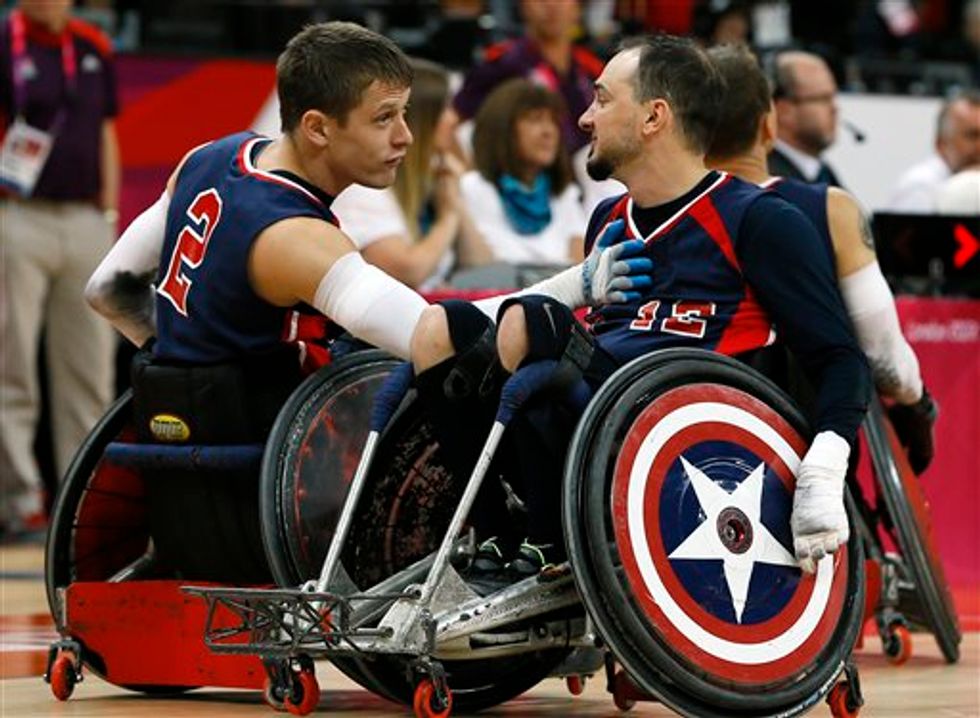 The International Paralympics Committee will be looking out for banned "boosting" in athletes at the 2016 games. Athletes with spinal cord injuries might turn to boosting, a way to increase one's blood pressure via self-inflicted pain. (AP/Kirsty Wigglesworth)
According to the IPC, the practice of boosting has been used by athletes with spinal cord injuries because they often have trouble regulating their blood pressure:
People with spinal cord injuries experience not only paralysis and loss of sensation, but often have trouble with autonomic functions such as blood pressure, heart rate and bladder and bowel control.

Consequently, during competition a wheelchair athlete's heart rate does not increase according to the body's demands, leading to low blood pressure, fatigue, often poor performance and a loss of endurance.
Other boosting techniques the IPC has known athletes use include very tight leg straps or breaking a toe before the competition.
The IPC officially banned boosting in 1994. Appointed physicians may test for illegal boosting during warm-up before competitions by measuring an athlete's blood pressure. If the blood pressure measures too high, Reuters reported that the athlete is given a few minutes to cool off before another test. If still determined to be above a safe level, the athlete will be disqualified and faces an investigation by the IPC.
In addition to being a form of performance enhancement that is simply not allowed by the committee, boosting can also cause some serious health issues such as stroke or hemorrhages.
A study published in 2010 in the journal Disability and Rehabilitation evaluated athlete knowledge and incidents of boosting. It found out of 99 study participants from the Beijing Paralympic Games, 54 percent had heard of the practice while 39.4 percent had not. About 16 percent (all male) of those surveyed admitted to boosting.
"People think that the Paralympics is a more benign version of the Olympic Games and that it is not as pointed, as targeted and as fierce," Wayne Derman, the IPC's chief medical officer, said last month, according to Reuters. "That is such a wrong misconception."
The IPC did not immediately respond to TheBlaze's request for comment on this article.