Republican presidential candidate Sen. Ted Cruz (Texas) Wednesday challenged President Barack Obama to debate the administration's plan to allow thousands of Syrian refugees into the United States.
The Texas senator said that he felt insulted by comments Obama made in Turkey during the G-20 summit, when the president labeled as "shameful" the idea of allowing Christian but not Muslim Syrian refugees into the U.S.
Cruz argued that the U.S. cannot effectively vet the refugees to determine whether they are affiliated with the Islamic State.
"I would encourage you, Mr. President, come back and insult me to my face," Cruz told reporters outside the Capitol Hill Club in Washington. "Let's have a debate on Syrian refugees right now, we can do it anywhere you want."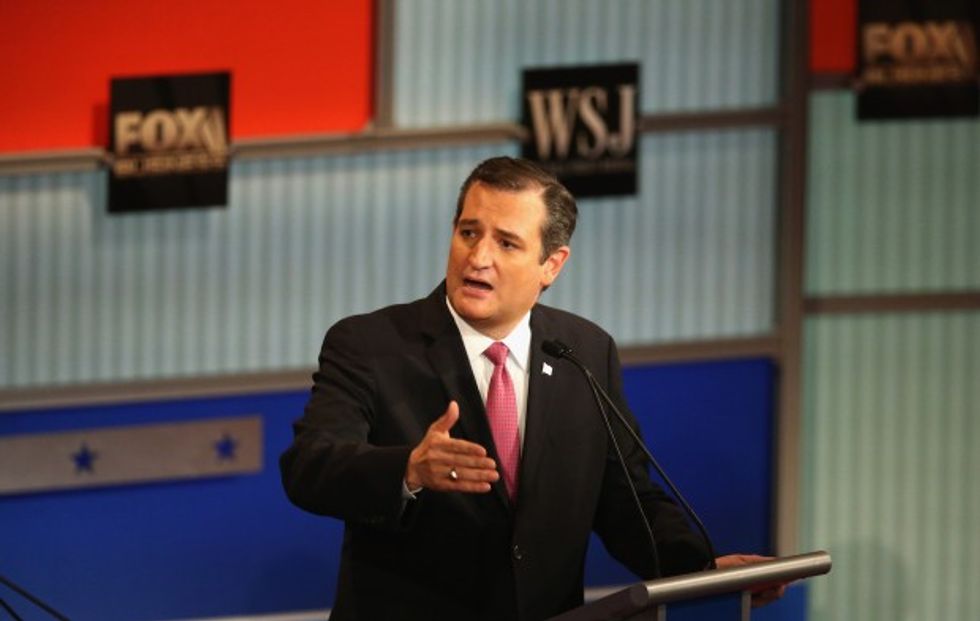 Texas Sen. Ted Cruz speaks during the Republican presidential debate Milwaukee, Wisconsin, Nov. 10. (Scott Olson/Getty Images)
Cruz suggested the debate take place on any television station — "I'm sure any of the TV stations would be happy to host it" — and argued that the American people would side with him.
However, it's unlikely that the sitting president would agree to a debate with a current Republican candidate.
"Let's have a debate on your refugee policy," said Cruz, who was joined by Iowa Rep. Steve King (R), who endorsed Cruz's candidacy this week. "And if you're so certain that allowing tens of thousands of refugees, including potentially ISIS terrorists is a good idea, if you're so certain the American people are with you, then I would encourage you to come."