An evangelist who was punched in the face last week by an unnamed assailant while preaching inside of a "free speech zone" at the University of Missouri has released a video that he says showcases what unfolded before, during and after the attack.
"It's no wonder so many black people are in prison since they have this mentality of, 'Eff the police,'" Texas-based evangelist Jesse Morrell can be heard preaching in the video. "Michael Brown died because he had a disrespect for authority."
It is immediately following these controversial comments about Brown — which are uttered around the seven-minute mark in the video — that an unnamed assailant is seen attacking Morrell.
Watch the video below at the 6:45 mark to see the violent incident unfold:
Morrell, who continued to preach throughout the day following the attack, told TheBlaze on Thursday that he recorded the incident using one of his own cameras, and that this was the first time he had ever been punched on a college campus.
"I travel the country preaching at universities," said the pastor, who runs a ministry called Open Air Outreach. "In my 13 years in traveling and preaching [it is] the first time I've ever been punched on a campus."
Morrell said that the unnamed assailant — who is reportedly a student — kept trying to attack him even after throwing the first punch, describing him as genuinely angry over what he was saying about the black community and police violence.
"He was trying to break free, because he wanted blood," Morrell said.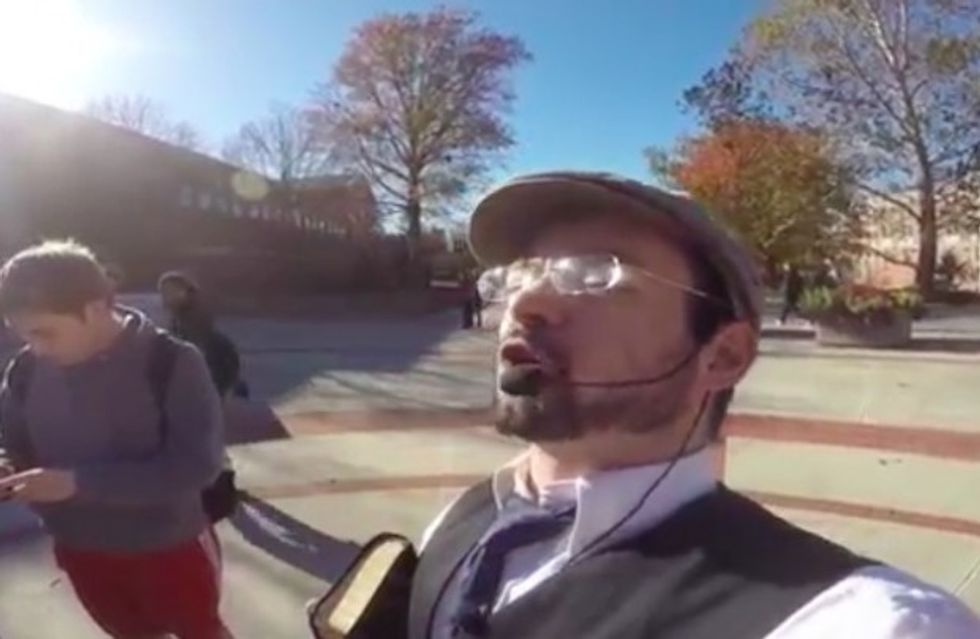 Evangelist Jesse Morrell preaching at the University of Missouri last week (YouTube)
Morrell explained that he began his speech at the University of Missouri last Thursday by proclaiming that both black lives and police officers' lives matter and that an "eff the police mentality is not good for the back community."
"If we really want to help the black community," Morrell said. "We need to get this attitude of disrespect out of the community."
After the incident, another student can be seen in the video defending the preacher's right to free speech. Morrell said that other students also later approached him and apologized for what had unfolded.
"I had support even from atheists," he said.
The evangelist said that the student who assaulted him was arrested on Friday and that he "basically admitted to it" and will soon have a court date.
A request for comment from the University of Missouri Police Department to clarify details surrounding the case has not yet been returned to TheBlaze.
In a statement sent to media on Thursday, Morrell said that he is praying for the young man.
"He should have enlightened me rather than assaulted me," he told TheBlaze. "The only thing I was trying to provoke was dialogue and debate."
--
Follow the author of this story on Twitter and Facebook: