UPDATE: New video has emerged showing the moment a preacher was punched in the face by an unidentified assailant inside a "free speech zone" at the University of Missouri.
A man who first posted a video on Periscope claimed the attacker was the same apparent activist who grabbed the microphone moments later. However, that doesn't seem to be the case. The man who appears to have attacked the preacher in the video can be seen in a purple shirt, but blogger Matei Stefanescu, who apparently witnessed the assault, says the man who later grabbed the microphone was a different person.
He posted the following photos to illustrate this point: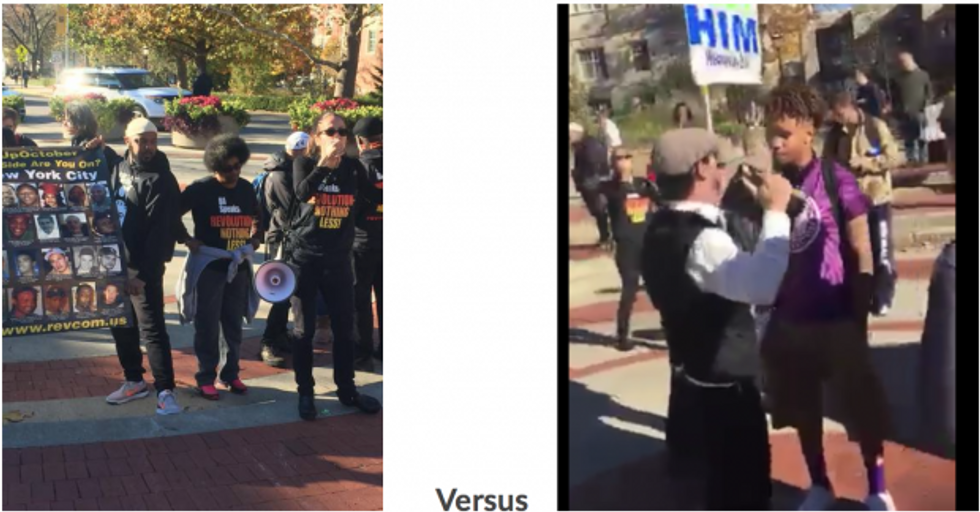 Screengrab via
---
A man allegedly assaulted a Christian preacher in a "free speech zone" at the University of Missouri on Thursday.
Jake Loft, who identifies himself as a campus associate for Fox News, posted a photo on Facebook showing preacher's bloody and swollen lip following the alleged attack at the college's so-called "speaker circle."
The preacher was holding a Bible and a sign that included a reference to Hebrews 5:9 while he used his free speech to talk about the gospel. Though no video footage showing the exact moment of incident was immediately available, a Periscope video appears to provide some witness corroboration to the assault.
Major Brian Weimer of the University of Missouri Police Department confirmed to TheBlaze that an incident report was filed, but police have yet to make an arrest because they haven't been able to identify the suspect. The investigation into the alleged assault is ongoing.
Watch the full Periscope video here.
(H/T: GWP)
This story has been updated with new information.
---