Democratic presidential candidate Hillary Clinton laid out a detailed strategy Thursday to combat the Islamic State terror group — and took aim at Republican presidential candidates for their obsession with a "clash of civilization" between Christianity and Islam.
"The bottom line is that we are in a contest of ideas against an ideology of hate, and we have to win," Clinton said in a speech at the Council on Foreign Relations in New York City. "Let's be clear though: Islam is not our adversary. Muslims are peaceful and tolerant people and have nothing whatsoever to do with terrorism."
Without naming her Republican presidential opponents outright, Clinton chided the candidates for their focus on the words "radical Islamic terrorism" and pitting Christianity and Islam against each other, arguing that such a stance alienates key allies the U.S. needs in its fight against the Islamic State.
"The obsession in some quarters with a clash of civilization or repeating the specific words 'radical Islamic terrorism' isn't just a distraction, it gives these criminals, these murderers, more standing than they deserve," Clinton said. "It actually plays into their hands by alienating partners we need by our side. ... In the end, it didn't matter what kind of terrorist we called [Osama] bin Laden, it mattered that we killed bin Laden."
Clinton, who was in the White House Situation Room during the raid that killed the 9/11 mastermind, sought to paint herself as a candidate who will get results. "The time for delay is over, it's time to get this done," she said.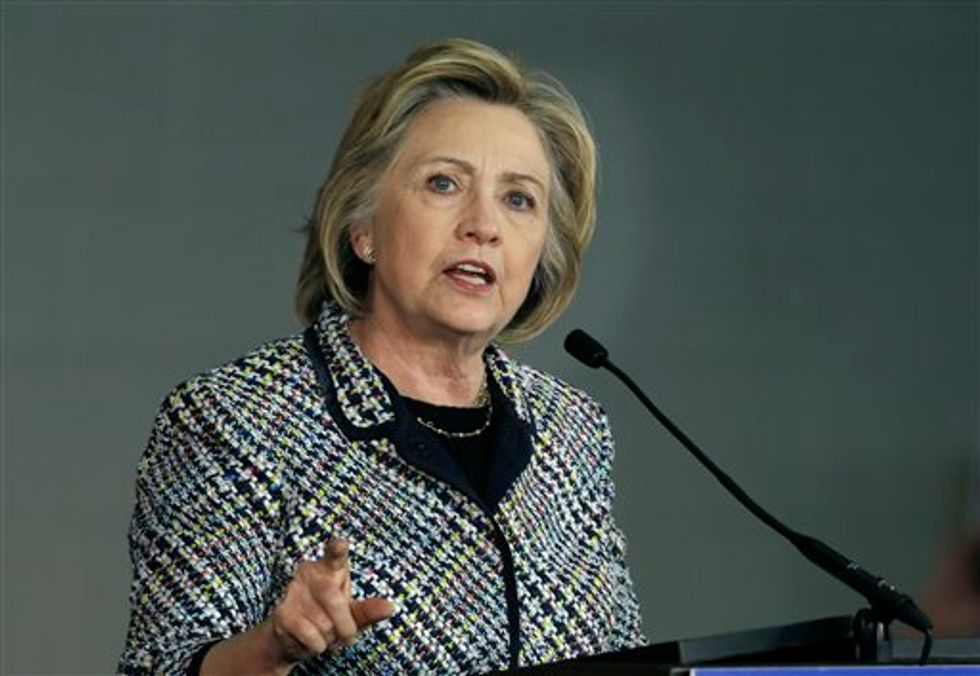 Democratic presidential candidate Hillary Clinton speaks at a Dallas campaign event Tuesday. (AP/LM Otero)
But in her speech, the former secretary of state did not draw many distinctions between her plan and President Barack Obama's current strategy.
Clinton called for an "intelligence surge" in the fight against the Islamic State in Iraq and Syria, as well as more airstrikes and limited ground intervention. The former senator also called on Congress to pass an updated authorization for the use of military force to send a signal that the U.S. is unified in its opposition to the continued spread of the Islamic State.
In her speech following the terror attacks last Friday in Paris, which killed 127 people, Clinton also pushed back on the argument by several Republican 2016 candidates, including Texas Sen. Ted Cruz, that the U.S. to put at least a temporary halt on accepting Syrian refugees due to concern about terror attacks here.
"Yes, we do need to be vigilant in screening and vetting any refugees from Syria," she said. "But we cannot allow terrorists to intimidate us into abandoning our values and our humanitarian obligations. Turning away orphans, applying a religious test, discriminating against Muslims, slamming the door on every Syrian refugee — that is just not who we are. We are better than that."
But Clinton called on the 2016 candidates to put partisanship aside and focus on moving forward against the Islamic State, as well as Al Qaeda and terror more broadly around the globe.
"This is not a time for scoring political points," she said.