BBC host Andrew Neil sent a brazen message to the Islamic State Thursday: "you will lose."
Delivering a passionate message in a searing two-minute monologue, Neil indicted the terror group for its brutal tactics aimed at intimidating and spreading fear.
"Welcome to 'This Week.' The week in which a bunch of loser jihadists slaughtered 132 innocents in Paris to prove the future belongs to them, rather than a civilization like France," the BBC host said to open up his show.
— Scroll down for video —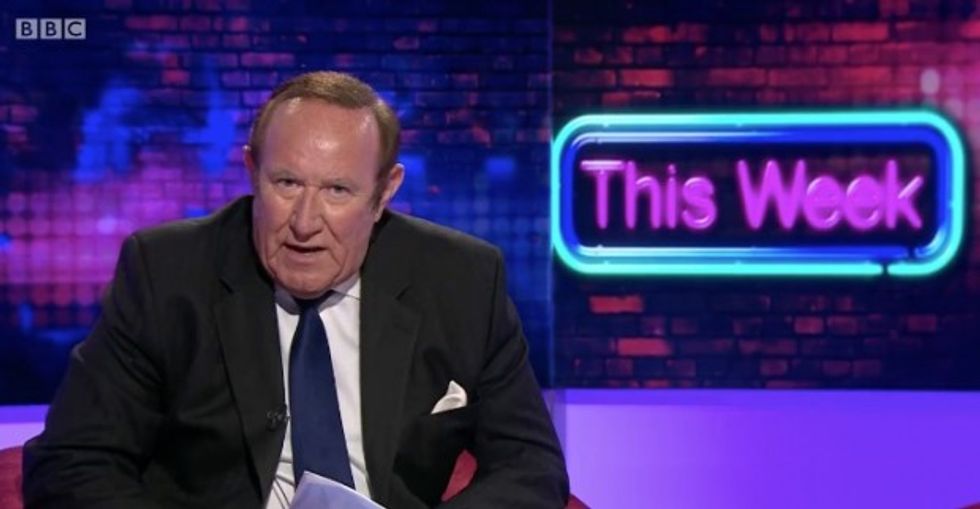 Image source: YouTube
"I can't say I fancy their chances," he said, listing off the many contributions the French have made to civilization. "Versus what? Beheadings, crucifixions, amputations, slavery, mass murder, medieval squalor and a death cult barbarity that would shame the Middle Ages."
Neil said it was only a matter of time before the group ceased to exist.
"Well, IS, or Daesh, or ISIS, or ISIL, or whatever name you're going by — I'm sticking with IS, as in Islamist Scumbags — I think the outcome is pretty clear to everybody but you," he said. "Whatever atrocities you are capable of committing, you will lose."
"In a thousand year's time, Paris, that glorious city of lights, will still be shining bright as will every other city like it. And you will be dust, along with the ragbag of fascist Nazis and Stalinists that previously dared to challenge democracy and failed."
—
Follow the author of this story on Twitter and Facebook: