The U.S. military was prevented from using 75 percent of its firepower against the Islamic State, House Foreign Affairs Committee Chairman Ed Royce Royce (R-Calif.) said this week, and the Pentagon appeared to be defending the policy.
According to Royce, the Obama administration is refraining in order to prevent civilian deaths, the Washington Free Beacon reported.
"You went 12 full months while ISIS was on the march without the U.S. using that air power and now, as the pilots come back to talk to us, they say, 'Three-quarters of our ordnance we can't drop, we can't get clearance even when we have a clear target in front of us,'" Royce said. "I don't understand this strategy at all, because this is what has allowed ISIS the advantage and ability to recruit."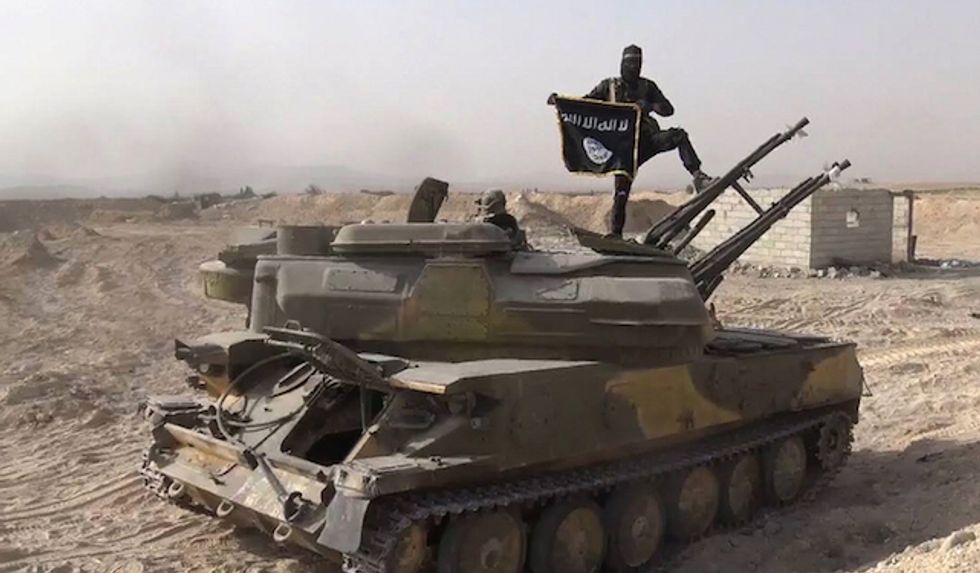 Rased News Network, a Facebook page affiliated with Islamic State militants, via AP
A White House National Security Council spokesman referred TheBlaze to the Defense Department, asserting, "This is very much an operational question for them to address."
A Defense Department spokesperson did not immediately respond to TheBlaze.
However, an unnamed Pentagon spokesperson did defend the Obama policy to the Free Beacon. "The bottom line is that we will not stoop to the level of our enemy and put civilians more in harm's way than absolutely necessary," the Pentagon official said.
"The fact that aircraft go on missions and don't strike anything is not out of the norm," the official added. "Despite U.S. strikes being the most precise in the history of warfare, conducting strike operations in the heavily populated areas where ISIL hides certainly presents challenges. We are fighting an enemy who goes out of their way to put civilians at risk. However, our pilots understand the need for the tactical patience in this environment. This fight against ISIL is not the kind of fight from previous decades."
Jack Keane, a retired four-star U.S. general, agreed with Royce's assessment.
"When we agreed we were going to do airpower and the military said, this is how it would work, he [Obama] said, 'No, I do not want any civilian casualties,'" Keane said. "And the response was, 'But there's always some civilian casualties. We have the best capability in the world to protect from civilians casualties.'"
Keane said Obama responded, "No, you don't understand. I want no civilian casualties. Zero."