A group of veterans is taking border security into their own hands.
Every few months, a group of U.S. veterans — dubbed Arizona Border Recon — meet up to patrol the border between Arizona and Mexico for seven days and nights in order to find people coming into the country illegally and push them into territory with high Border Patrol officers.
Complete with night-vision equipment for their 24/7 job, the group sets up and patrols a perimeter of 6-9 miles.
"I don't know if we can put an end to it, but we can do our part," one group member told KVOA-TV as they walked along in camo and carrying weapons.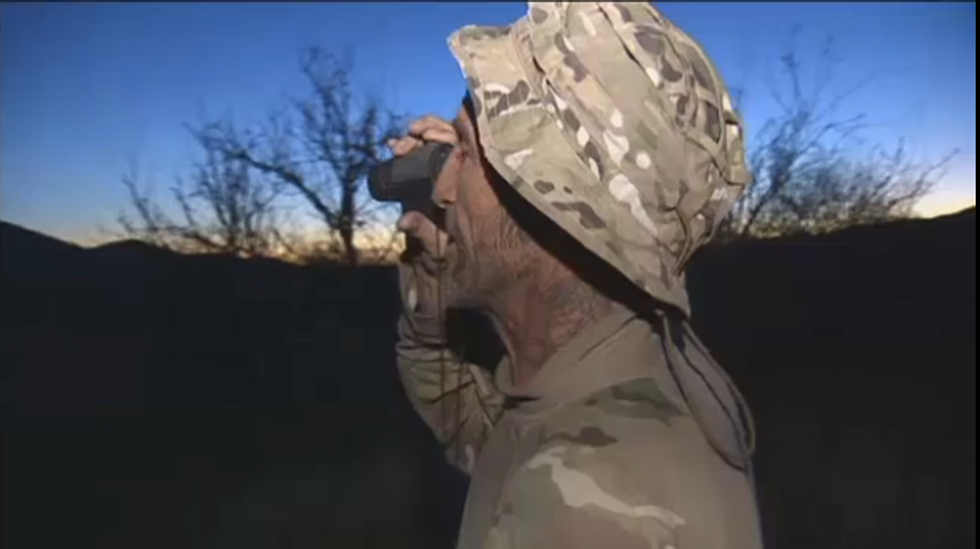 Image source: KVOA-TV
Although the group has been patrolling the border on their own for several years, they have set their sights on potential new threats — Islamic State terrorist who might try to sneak into the U.S. through the southern border.
"There's Pakistanis, Afghanis all trying to get in, Syrians trying to get in. So we are trying to stop everything and anything coming across," Tim Foley, the field operations director of Arizona Border Recon, told KVOA. "We have the war on drugs and the war on terror, and it seems that they are combining right here on the border."
The veterans told KVOA that they still believe they are fighting for their country — only this time on the border. Group members said they do not consider themselves to be a militia nor do they want to overthrow the government. They simply just want to protect the border.
"You don't lock your doors because you hate what's outside, but because you love what's inside," Mark McConnell, one of the volunteers, said.
The Tucson Sector Border Patrol released a statement pertaining to the veterans' mission:
Border security work is potentially dangerous and complex; usually taking place in remote locations in very inhospitable terrain. Border Patrol agents receive extensive training and are taught to coordinate and communicate with a multitude of law enforcement officers to prevent unanticipated encounters with one another. Agents are also supported by ground-based and sophisticated aerial detection technology.  We strongly encourage private citizens and all non-governmental organizations to contact the Border Patrol and/or local law enforcement authorities to report suspected unlawful activity.
(H/T: KVOA-TV)