Pro-choice student activists at Otterbein University in Ohio called on the college to purchase sidewalk space in front of the student center in order to block "militant" pro-life protesters, saying it made students feel "unsafe."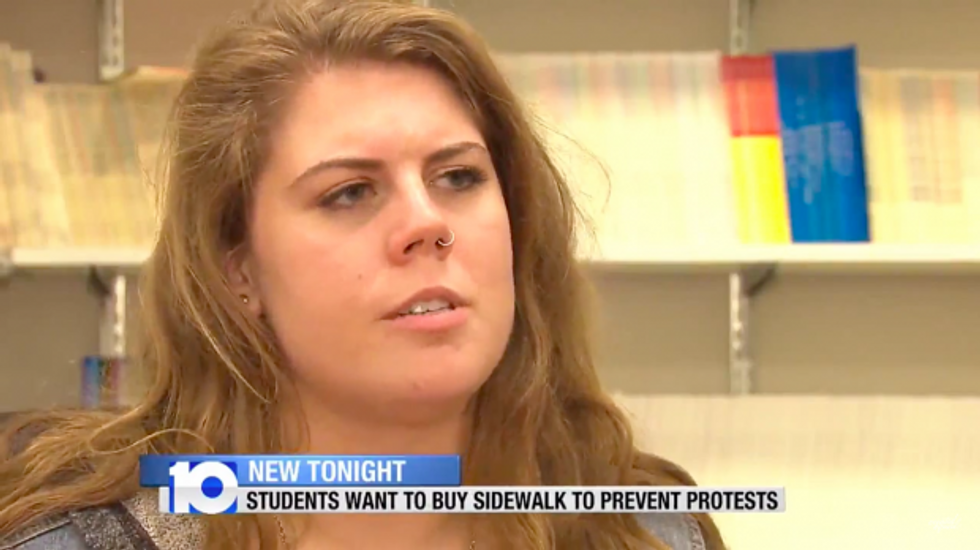 Otterbein University student body President Carrie Coisman discussing Created Equal's pro-life protests. (Image source: YouTube)
The move against Created Equal, a pro-life advocacy group that says they have been protesting at universities for years, was ultimately defeated only days after it was proposed, according to EAG News.
"I just think it's unfortunate [Created Equal] feels it needs to be so militant, particularly to young people, particularly to young women," student body President Carrie Coisman told 10 TV News.
The frustrations, according to 10 TV News, stem from the fact that the sidewalk in question is in the center of Otterbein's campus, directly in front of the university's student center. However, Created Equal Director Mark Harrington says the sidewalk is there for the group to "express our free speech rights."
"The more they try to censor us — bed sheets, knocking over signs, trying to purchase a public sidewalk — it's not going to deter us," Harrington said.
Coisman and student Senator Jude Burnside said they take issue only with the activists' location, not with their right to protest.
"By purchasing the sidewalk space, we are only trying to move the protests — not stop them," Burnside said.
A spokeswoman for the city of Westerville, where the university is located, said public sidewalks are "public infrastructure" and don't go up for sale the way private property does.
"We respect the rights of any group who wishes to share and express their opinions on public property and encourage our students to either engage in debate; ignore it; or learn the process that takes place between debates and protesting," a statement from the university's statement said.
Watch the 10 TV News report:
(H/T: EAG News)
—
Follow Tré Goins-Phillips (@tregp) on Twitter