Protesters armed with guns and banners gathered outside a mosque in Irving, Texas, over the weekend to publicly demonstrate their opposition to the "Islamization of America."
"We are here protesting Syrian refugees coming to America, protesting the Islamization of America," David Wright told KDFW-TV. Wright is the leader of the Bureau of American Islamic Relations, BAIR for short, which is the name used by the group of protesters identified themselves.
"It's a boiling pot. The kettle…the top on this kettle is on really, really tight, and it is going to blow," another man, who didn't want to be identified, told KDFW.
"I may look like their version of a racist, but I'm not. I'm not even a racist here. I just don't want them to push their beliefs down my throat," he added.
Irving Police personally warned the mosque's leaders prior to the protest, according to the Dallas Morning News. The mosque leaders were urged to inform their members to steer clear of the protesters, which they did. In fact, members of the mosque rarely came within 100 feet of the protesters, the Morning News noted.
Wright, who was adorned with a tactical shotgun, also told the Morning News that the firearms were "mostly for self-protection," emphasizing their intention "to show force."
"We don't want people to think we're out to kill people or shoot people," Wright added. "It would be ridiculous to protest Islam without defending ourselves."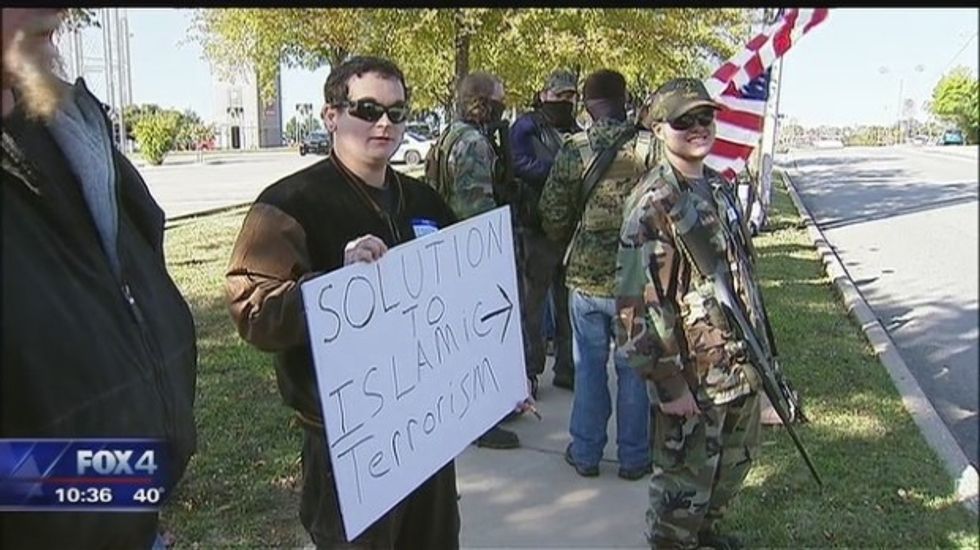 Image source: KDFW-TV
David Palmer, an at-large member of the Irving City Council, said that his initial impression of the protest was that the group was trying to intimidate Muslims.
"My initial impression was they were using them for intimidation," he said. "I doubt that they'd be happy if some of the Muslim churchgoers here showed up at their Christian church, their Baptist church, their Methodist church tomorrow morning with rifles slung over their shoulders."
Both Irving Police and SWAT were on standby during the protest, but they were never needed, as the protest went off without incident.
—
Follow the author of this story on Twitter and Facebook:
[facebook //www.facebook.com/plugins/like.php?href=