Republican presidential candidate Ben Carson on Monday sought to clarify comments he made earlier in the day when he had seemingly supported Donald Trump's claim that thousands of people in New Jersey, largely Muslim, were celebrating just hours after the attacks on 9/11.
The controversy arose after an ABC News reporter asked Carson if he had seen what Trump was talking about, to which Carson replied that he "saw the film."
But Carson walked back those comments Monday night on Fox News' "The Kelly File."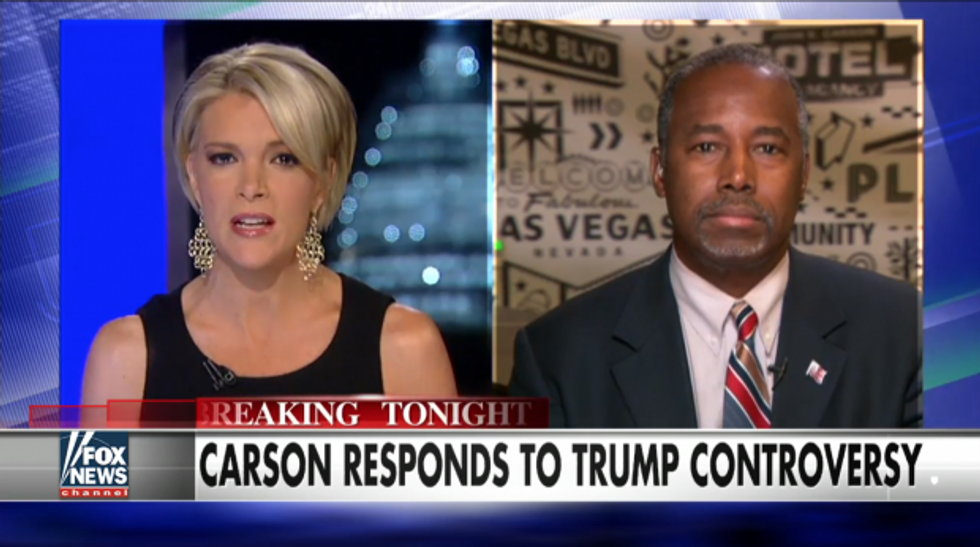 Image source: Fox News
"What we were talking about is the reaction of Muslims after the 9/11 attack, and if they were in a celebratory mood," Carson told host Megyn Kelly. "You know, I was really focusing on that it was an inappropriate thing to do, no matter where they were."
"They asked me did I see a film; I did see the film," the retired neurosurgeon continued. "I don't know where they were, but I did see a film of Muslims celebrating and I was making a point ..."
Kelly interrupted Carson, contending that he possibly displayed a "lack of caution" during the exchange with the reporter.
"But it was important whether these were American Muslims in New Jersey versus folks over in Iran or in the Middle East," she said. "So you admit to a lack of caution in answering that question?"
"Yeah, yeah," Carson answered. "I mean, I thought we were just talking about the fact that Muslims were inappropriately celebrating. I didn't know that they had an agenda behind the question."
When Kelly confirmed that the reporter was just trying to learn if he agreed with Trump's assessment, Carson said that he had "not heard about [Trump's] comments."
—
Follow the author of this story on Twitter and Facebook:
[facebook //www.facebook.com/plugins/like.php?href=