The governing body of Boston's public transit system has voted to ban all advertising having to do with political or social issues after a pro-Palestinian group was criticized for a poster some say is "anti-Semitic."
The Massachusetts Bay Transportation Authority voted unanimously Monday to stop accepting ads that concern "political issues or express or advocate an opinion, position or viewpoint on a matter of public debate about economic, political, moral, religious or social issues."
The decision comes as the Palestine Advocacy Project is defending an ad that calls for the U.S. to end its military aid to Israel, saying that the Israeli military, using U.S. tax dollars, is responsible for the deaths of hundreds of Palestinian children, WCVB-TV reported.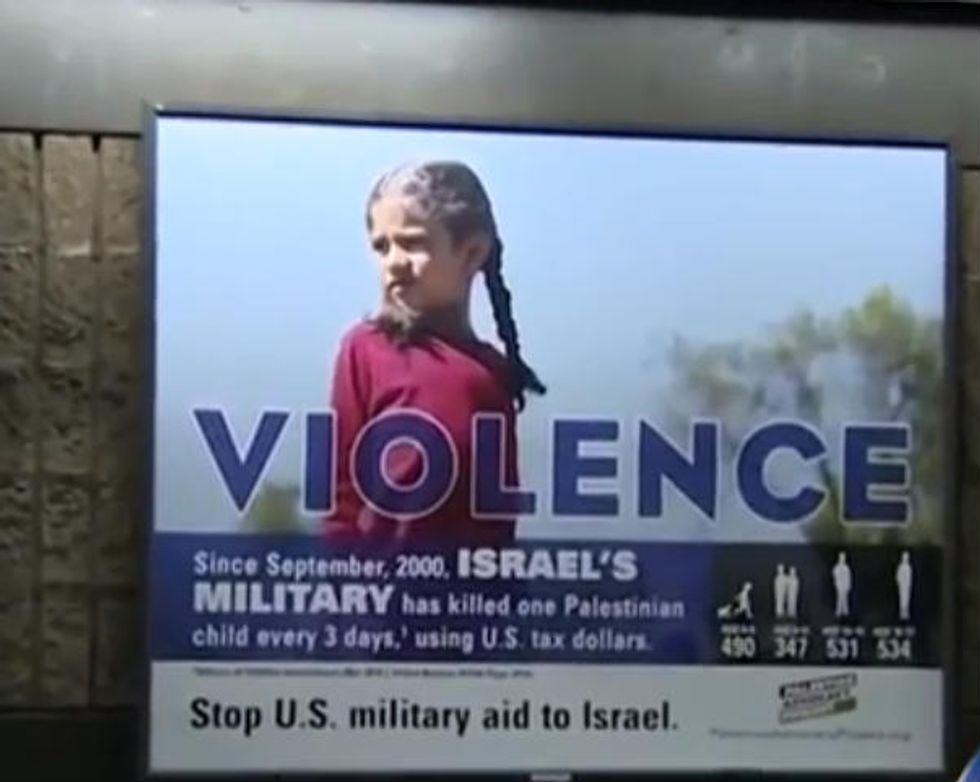 Image source: WCVB-TV
"At a time when Jews and Israelis around the world are facing mounting violence and anti-Semitism, this false and deceptive advertisement can only be construed as hostile and dangerously provocative," the Jewish Community Relations Council of Greater Boston said in response to the ad.
But the Palestine Advocacy Project said it meant only to criticize the U.S. and Israeli governments — not the Jewish people.
The controversy led the transportation board to ban the pro-Palestine group's ad, along with similar ads having to do with controversial political issues.
But the move has ignited even more controversy as the American Civil Liberties Union of Massachusetts argues that removing the ad violates the group's First Amendment right to free speech.
The MBTA, however, said the new policy was under discussion even before the current controversy.
"We have had a number of lawsuits about these issues in the past, and by making this change, those lawsuits will be minimized," John Englander, general counsel for MBTA, said.
Boston News, Weather, Sports | FOX 25 | MyFoxBoston
(H/T: WCVB-TV)
–
Follow Jon Street (@JonStreet) on Twitter