Democratic presidential frontrunner Hillary Clinton on Tuesday vowed to refrain from using the phrase "illegal immigrant" for the duration of her 2016 campaign, citing the phrase as a "poor choice of words."
During a Noticias Telemundo Facebook question-and-answer session, the former secretary of state was asked by immigration activist Jose Antonio Vargas if she would commit to his "#wordsmatter" pledge.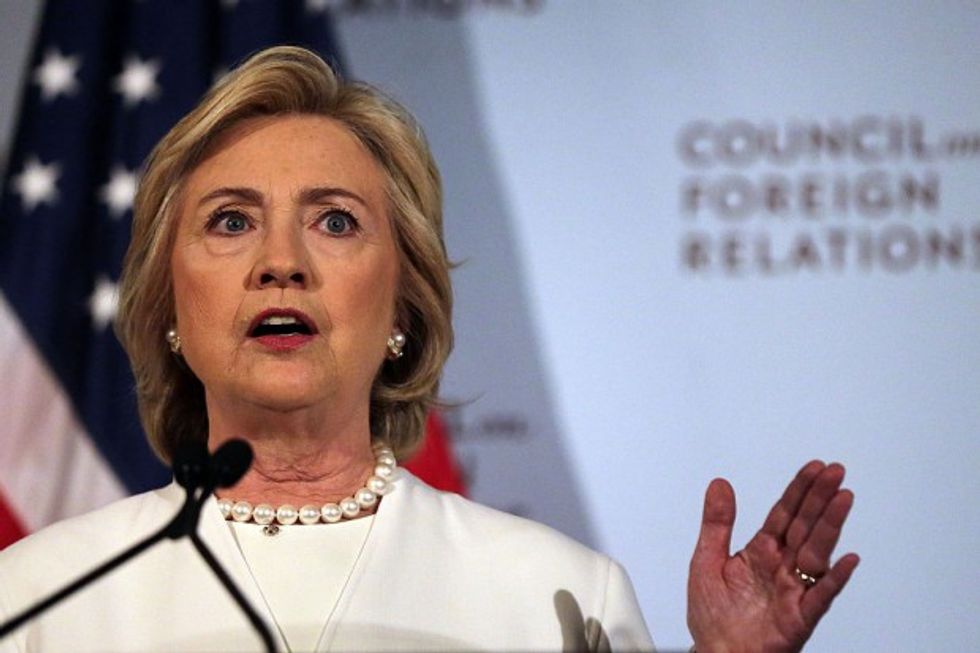 Former Secretary of State Hillary Clinton gives a speech on her approach to defeating the Islamic State, November 19, 2015. (Getty Images/Spencer Platt)
"On behalf of the organization I founded, Define American, and the 11.7 million undocumented immigrants in this country — including myself — I am asking all the presidential candidates to recognize that #wordsmatter by committing to not using the term 'illegal' when referencing the undocumented population," Vargas wrote on Facebook.
"Yes, I will," Clinton began. "That was a poor choice of words. As I've said throughout this campaign, the people at the heart of this issue are children, parents, families, DREAMers. They have names, and hopes and dreams that deserve to be respected."
"I've talked aboutundocumented immigrants hundreds of times and fought for years for comprehensive immigration reform," Clinton added. "And I will continue to do so."
"We are a country built by immigrants and our diversity makes us stronger as a nation - it's something to be proud of, celebrate, and defend," she concluded.
[sharequote align="center"]"We are a country built by immigrants and our diversity makes us stronger as a nation"[/sharequote]
DREAMers take their name from the acronym for legislation that lays out a process toward citizenship for immigrant children who were brought into the country illegally and grew up in the United States.
During a town hall meeting in New Hampshire earlier this month, Clinton said she voted "numerous times when I was a senator to spend money to build a barrier to try to prevent illegal immigrants from coming in. And I do think you have to control your borders."
Clinton's answer was in response to a question about "securing the Mexican border."
The Associated Press contributed to this report.
—
Follow the author of this story on Twitter and Facebook:
[facebook //www.facebook.com/plugins/like.php?href=