Americans need to "think seriously" about a possible attack over the holidays, according to former CIA Deputy Director Michael Morell.
Appearing on "CBS This Morning" Tuesday, Morell said the warnings of possible attacks in the U.S. and abroad over the holidays were something Americans should be mindful of, especially when traveling overseas in the wake of the Paris terrorist attacks. Morell said there are "two reasons" why those threats are credible.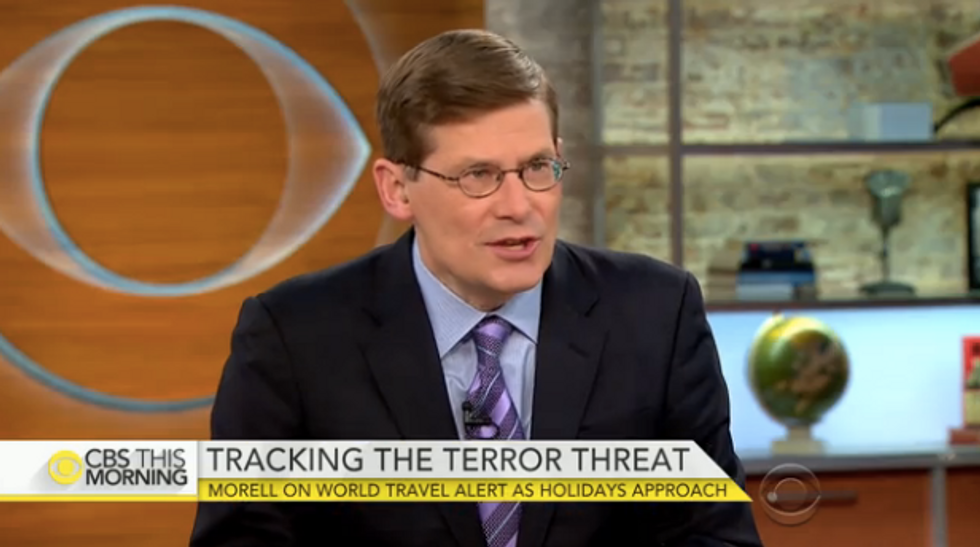 Image source: CBS News
"[The Islamic State] has thousands of followers here in the United States, the FBI knows that. They've now been incentivized by what happened in Paris to try to do something here," Morell said. "And we know that those same people were focused on the Fourth of July, so you'd think they'd still be focused on holiday periods."
Morell said the administration needs to "grapple" with the question of what the U.S. policy is if a Paris-style attack were to occur in New York City or Washington, D.C..
The former CIA deputy director also said that while the Islamic State seems to be sophisticated and have it all together that's not necessarily the case.
Watch Morell discuss the Islamic State and possible future attacks below.