It's a tape that hasn't been seen by the American public for nearly four decades — at least not the original — and a Texas woman is suing the federal government, hoping to get it back.
The footage on that 52-year-old tape shows the assassination of President John F. Kennedy as he drove in a convertible in Dealey Plaza in Dallas. It was taken by Orville Nix on Nov. 22, 1963, with a Keystone Model K-810 8mm camera, according to WFAA-TV, and it's his granddaughter, Gayle Nix Jackson, who wants it back.
The lawsuit was filed over the weekend in D.C. district court by attorney Athan T. Tsimpedes who states that Jackson has been trying to get the film back since 1998, believing it to have last been in the custody of the House Select Committee on Assassinations in 1978.
The film sequence includes first lady Jackie Kennedy climbing onto the trunk of the limousine, and Secret Service agent Clint Hill jumping onto the vehicle, according to the lawsuit.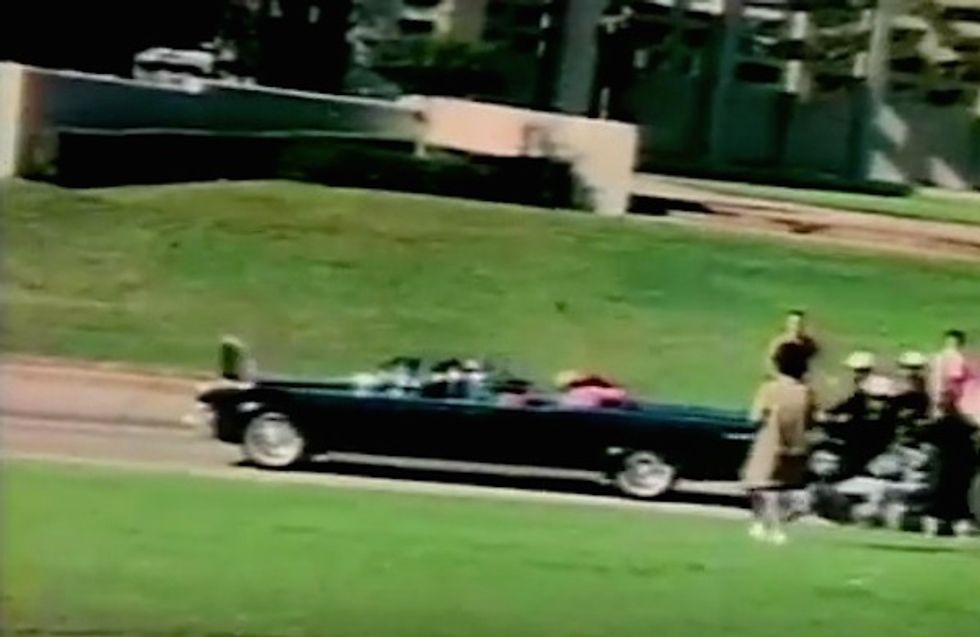 Image source: YouTube
According to the filing, the Warren Commission, the body that investigated the assassination of the 46-year-old president by Lee Harvey Oswald, believed the Nix film to be "just as important as the more famous Abraham Zapruder film." The filing goes on to state "the public is mainly unaware of [the film's] significance."
This video posted to YouTube contains some of the copied footage from Nix's film:
Tsimpedes contends in the filing that George Robert Blakely, chief counsel for the HSCA, "did possess the original film but does not know what happened since that time but assumed that the chain of custody would identify who had it last and has not been returned."
"The HSCA was the last to acknowledge having the original Nix film in its possession, and its whereabouts unknown to this day," the court document stated.
According to Tsimpedes, the files and evidence held by the HSCA should have been stored at the National Archives and Records Administration, but Jackson said she has been told by the archives that it did not possess the original film, only copies. An agency spokeswoman declined to comment Monday to the Associated Press.
The filing states that the film could give researchers a different point-of-view to study the president's assassination, more specifically, the "grassy knoll area to confirm the Warren Commission or HSCA findings."
"The reason why it's so important is because it's almost the mirror image of the famous Zapruder film" former FBI analyst Farris Rookstool III told WFAA in a story about the JFK assassination a couple of years ago. "In my personal opinion, the film is either one of two places — either it's been discarded, not knowing that it was the original... or it's in the hands of a private collector."
(H/T: Gizmodo)
—
The Associated Press contributed to this report.