Just days before President Barack Obama is set to go to a global climate change conference in Paris, he'll be pardoning two turkeys that will be flown to Washington from San Francisco.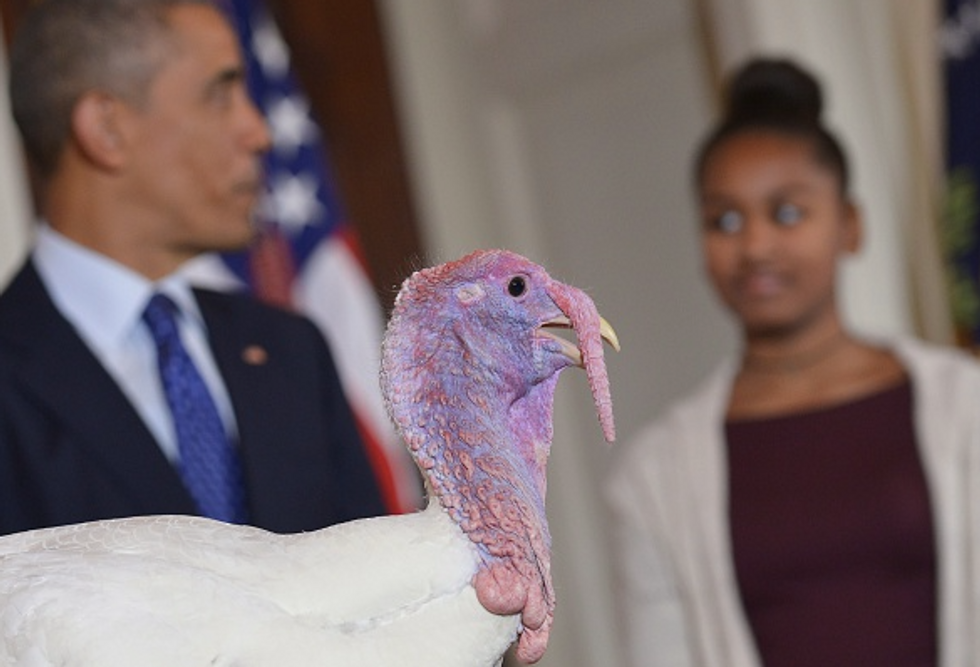 The National Thanksgiving Turkey 'Cheese' is seen during the annual ceremony in front of US President Barack Obama and daughter Sasha, in the Grand Foyer of the White House on November 26, 2014 in Washington, DC. AFP PHOTO/Mandel NGAN (Photo credit should read MANDEL NGAN/AFP/Getty Images)
"The president will pardon a couple turkeys again this year for Thanksgiving," Clyde Wayne Crews, vice president for policy at the Competitive Enterprise Institute, wrote. "The birds will take a carbon-intensive cross country flight from San Francisco International Airport to meet the POTUS."
Obama will depart for the Paris global climate conference Sunday where 150 world leaders will discuss ways to reduce carbon emissions.
The 68th annual White House Thanksgiving turkey pardon will take place at 2:45 p.m. Wednesday.
"The 2015 National Thanksgiving Turkey and its alternate were hatched and raised near Central Valley, California," according to the White House.
KNTV of San Francisco reported, "A Modesto, California, turkey clucked quietly in a cage on Monday at San Francisco International Airport, surrounded by guards in shades and suits, on its way to the White House to get pardoned."
The NBC affiliate further reported, "Lest any taxpayers worry that actual Secret Service agents were being paid to oversee the turkeys' safe travel, rest assured, the guards are actors paid for by the National Turkey Federation."
One turkey and an alternate will be transported to Washington. The birds will be sent to a farm in Virginia to live out their lives.