SEATTLE (AP) — The student body president of Western Washington University said Wednesday she has received death threats involving her race and no longer feels safe on the Bellingham campus.
"These attacks have threatened my sense of safety," Belina Seare, a black woman, said during a news conference about the malicious comments made about her on social media.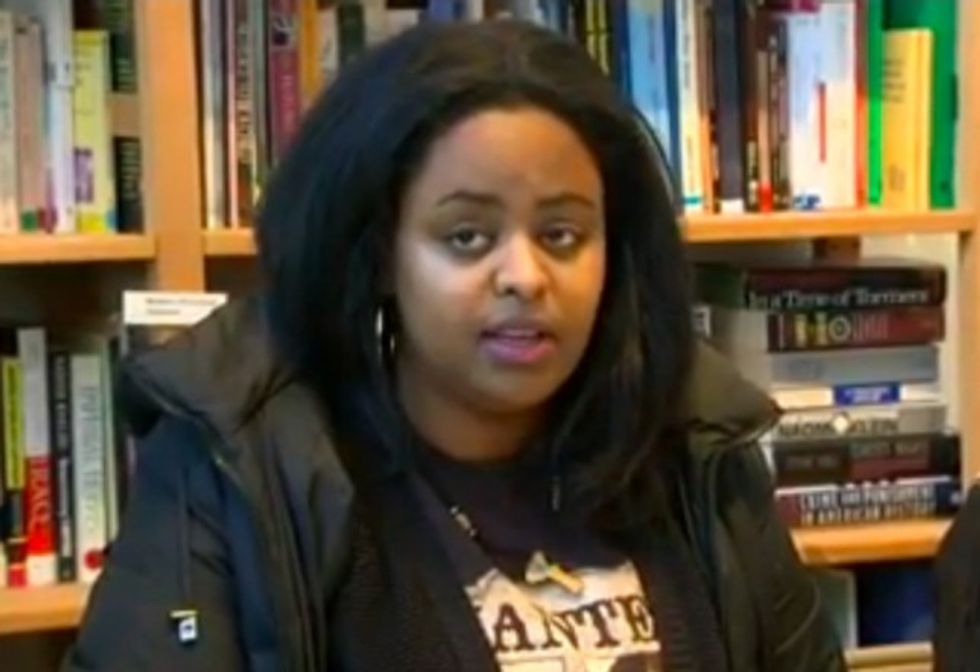 Belina Seare (Image source: KING-TV)
Seare compared the racist remarks to similar incidents at Lewis and Clark College in Portland, Oregon, and on campuses across the nation, including the University of Missouri.
She brought her concerns to the university police and school officials.
"I was told there was not much they could do," Seare said. "Due to the negligent response of campus police, I know my safety is not a priority."
The university did not immediately respond to the statements by Seare.
University officials canceled classes on Tuesday in response to racist social media posts and said they are investigating. University President Bruce Shepard said student safety is a top priority and that's why students were sent home early for the Thanksgiving break.
A series of threats against minorities were posted over the weekend on Yik Yak, an anonymous social media platform popular among college students. Seare and others at the news conference said there have been other social media posts.
The posts mentioned almost every ethnic group, including blacks, Muslims, Jews and American Indians, blaming them for an effort on campus to debate changing the university's mascot, a Viking.
The threats came days after some student leaders, including Searle, suggested the mascot is racist.
The university of about 15,000 students boasts that nearly a quarter of its enrollees on the small campus about 90 miles north of Seattle are from minority groups.
Community member Rosalinda Guillen said the university is not living up to its policies or its image.
"These amazing women have taken a courageous stand," Guillen said. "We don't believe that this community is taking adequate action to protect them."
—
Follow Dave Urbanski (@DaveVUrbanski) on Twitter