John Paine, the subject of a recently released documentary "The Luckiest Man," joined Glenn Beck Wednesday night to share his unique and, perhaps, counterintuitive life perspective.
Diagnosed 15 years ago with amyotrophic lateral sclerosis — ALS — Paine said he wouldn't trade the disease for his old life because of the "treasure" it revealed.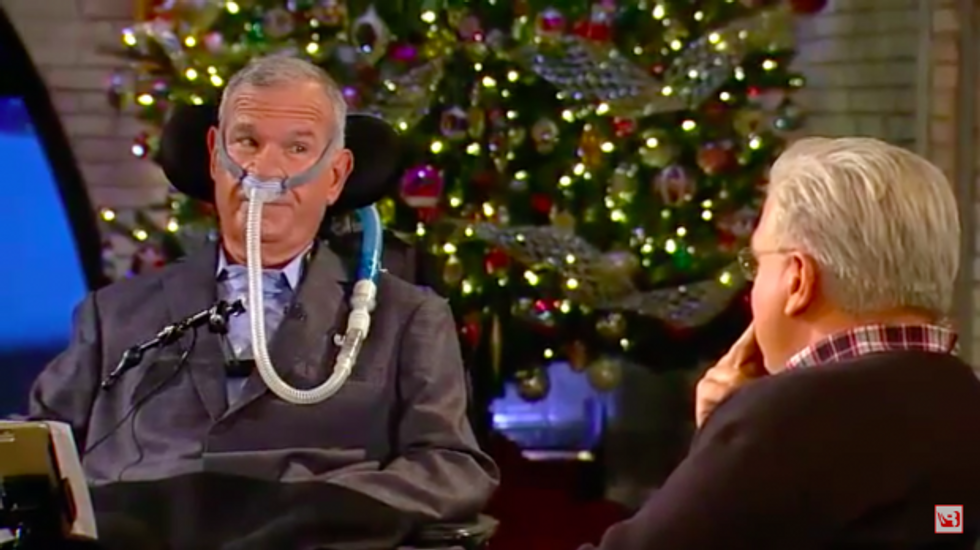 "The Luckiest Man" John Paine shares his story on "The Glenn Beck Program" Wednesday, Nov. 25.
Beck, hosting Paine and his family on The Glenn Beck Program, posed this question: "You said that if you had to trade it all, you wouldn't. Why?"
After waiting for his lungs to fill with oxygen — a sign that paralysis which comes with the incurable disease is running its devastating course — Paine said if he was given only two choices, he would keep what he has.
"If I were only given two choices, choice one is to be totally healed but return to my former relationship with God or, choice two, live with this wretched disease but have my current relationship with God," Paine told Beck. "I've already made the choice. I'll keep what I have."
When he first received the diagnosis, the doctors told Paine he might have two to three years left to live. But 15 years later, his story has been adapted for film and he says confidently that having ALS exposed him to the "greatest treasure of life."
"Truly, the greatest thing in life is an intimate relationship with God — it's the greatest treasure in life," he said.
Gleefully, Paine told Beck he "appreciates" being asked about his "greatest treasure" much more than the disease.
"I love to talk about that relationship, not so much the disease," Paine told Beck.
Later in the program, with a slight smile, Paine said he wouldn't be the man he is today without the burden of ALS.
"My heart was in a very different place ... I was so filled with my self-will because it seemed so hard to find God's," Paine said. "My heart was not in a very good place to be transformed because there was not a lot of room for God to work within my heart."
Paine went on to say his heart was "hardened" and "asleep" to emotions, something that prior to his "transformation" he believed were mistakes in God's creation.
He said, "I thought emotions … were a flaw in humankind."
Paine said God "needed to do a work" in him and, for that to happen, some sort of "intervention" needed to take place.
"For me, it turned out to be ALS," Paine said. "I wouldn't wish it on anyone else, but I am thankful and grateful for a transformed heart. ... I love dependence upon God's will today rather than my own, and trusting him instead of my reason and logic."
"I had missed out on all the supernatural power and intimacy that were available to me because I was trying to live my life," he added.
Complimentary Clip From TheBlaze TV The full episode of The Glenn Beck Program, along with many other live-streaming shows and thousands of hours of on-demand content, is available on just about any digital device. Click here to watch every Glenn Beck episode from the past 30 days for just $1!
—
Follow Tré Goins-Phillips (@tregp) on Twitter