While here on Earth, 20-pound Thanksgiving turkeys are in fridges across the country thawing in time for Thursday, astronauts on the International Space Station have sent back a message to show us how they celebrate the holiday.
NASA Commander Scott Kelly, who recently set the record for the astronaut who has spent the most time in space, and Flight Engineer Kjell Lindgren said they'll have the day off, like many Americans. They'll watch football, like many Americans. And, of course, they'll have a Thanksgiving meal that includes turkey, like many Americans.
The thing is though it will look very different than most of the meals being served here on Earth.
The menu will consist of smoked turkey, candied yams, rehydratable corn and potatoes au gratin, all of which comes in individual pouches.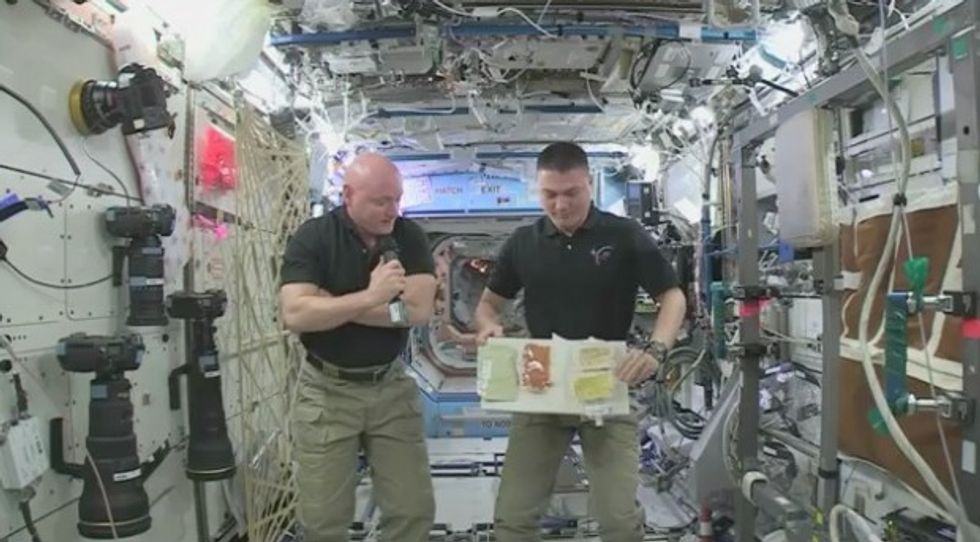 Kelly and Lindgren showed the world what those on the ISS would be eating for Thanksgiving dinner in space. (Image source: YouTube)
"Man, they are delicious," Kelly said as he sampled the yams while Lindgren chuckled.
The pair also shared what they're thankful for.
"We are incredibly thankful for the opportunity to be up here on the International Space Station, working and living in this amazing orbing laboratory," Lindgren said. "A physical manifestation about what is possible when the great countries of the world work together with communication, cooperation and collaboration toward peaceful means, perform research that benefits humanity back on the Earth.
"We're thankful for the thousands, if not tens of thousands, of people at NASA and its contractor companies and all the international partner space agencies around the world that work so hard to keep us safe and make us so successful up here on the International Space Station.
"I'm personally thankful for my friends and family, especially my wife and children, and I'm looking forward to seeing them here soon," Lindgren, who will return to Earth on December 11, said.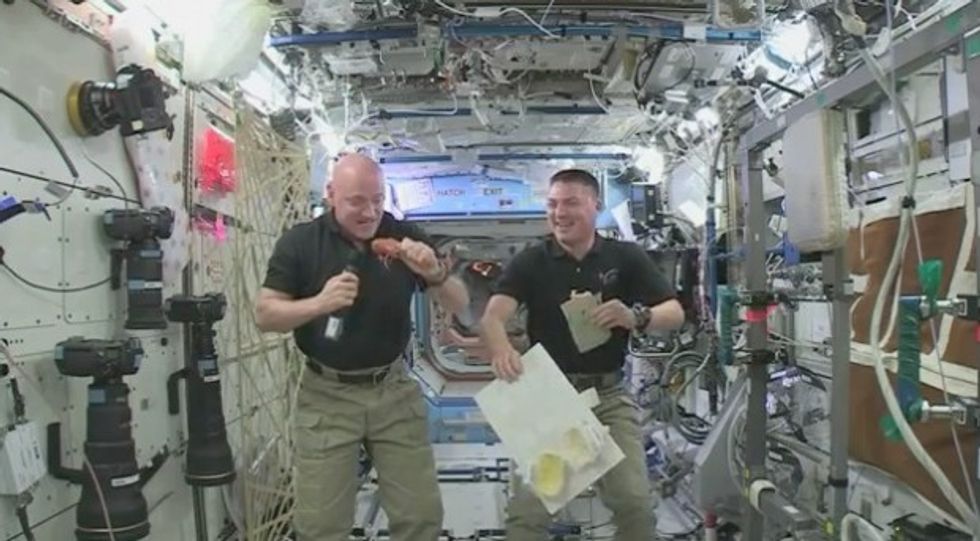 Lindgren laughed as Kelly tried some of the yams. (Image source: YouTube)
Kelly then took the opportunity to address the different perspective those on the ISS have while following the "bad things" that happen down on Earth.
"It just makes me really thankful to live in a country like the United States that provides us the freedom and opportunity and, you know, for me, being a middle class kid from New Jersey to just have the privilege to come up here and represent my country like this. So this is what I'm thankful for this Thanksgiving," he said.
Kelly will come back to Earth in March 2016.
(H/T: Huffington Post)