A celebrated Oxford professor believes that — despite the growth of secularism in the modern era — New Atheism is in decline, with faith poised to have a greater influence in the future.
Dr. Alister McGrath, a professor of science and religion at the University of Oxford, made his comments earlier this month during a lecture series at Baylor University's Truett Theological Seminary, according to the Baptist Standard.
"New Atheism ridicules the 'irrationality of faith,'" McGrath said in a speech titled, "Why Reason Isn't Enough: The "Big Picture" of Faith." "But it's in decline, because it's stale, dull and incredible. It provides unsatisfactory answers to ultimate questions."
He added, "People want to know more."
Dr. Alister McGrath addresses faith and atheism (Baylor University)
The professor, who holds three doctoral degrees, said that he was once an atheist as a young man, but later realized that "reason" simply wasn't enough for him — and he believes that atheism's inability to answer important questions is entirely too problematic.
"Christianity makes sense of what science is and is not and its limits," McGrath continued. "Science is very good at taking things to bits to see how they work, but humans need to know how to put them back together to understand what they mean."
It is Christianity, he said, that offers the ability for people to find purpose, secure an identity and to make a difference, whereas atheism, in contrast, offers a hyper-pared down view of the world.
In the end, McGrath said that faith simply does a better job of addressing peoples' questions about life and the human condition, as looking only at "what reason and science can demonstrate" is simply not enough to satisfy curiosities.
Watch the address, which unfolded during Baylor's Parchman Lecture series, in its entirety here.
It seems McGrath isn't the first expert to claim that he sees at least a proportional decline among secularists, as TheBlaze covered the Pew Research Center's projections earlier this year that showed a coming proportional decline among atheists and agnostics.
Consider that in 2010, there were about 1.1 billion atheists, agnostics or unaffiliated individuals in the world. While this group is projected to increase to 1.2 billion by 2050, it will actually decrease from 16 percent to 13 percent of the global theological population.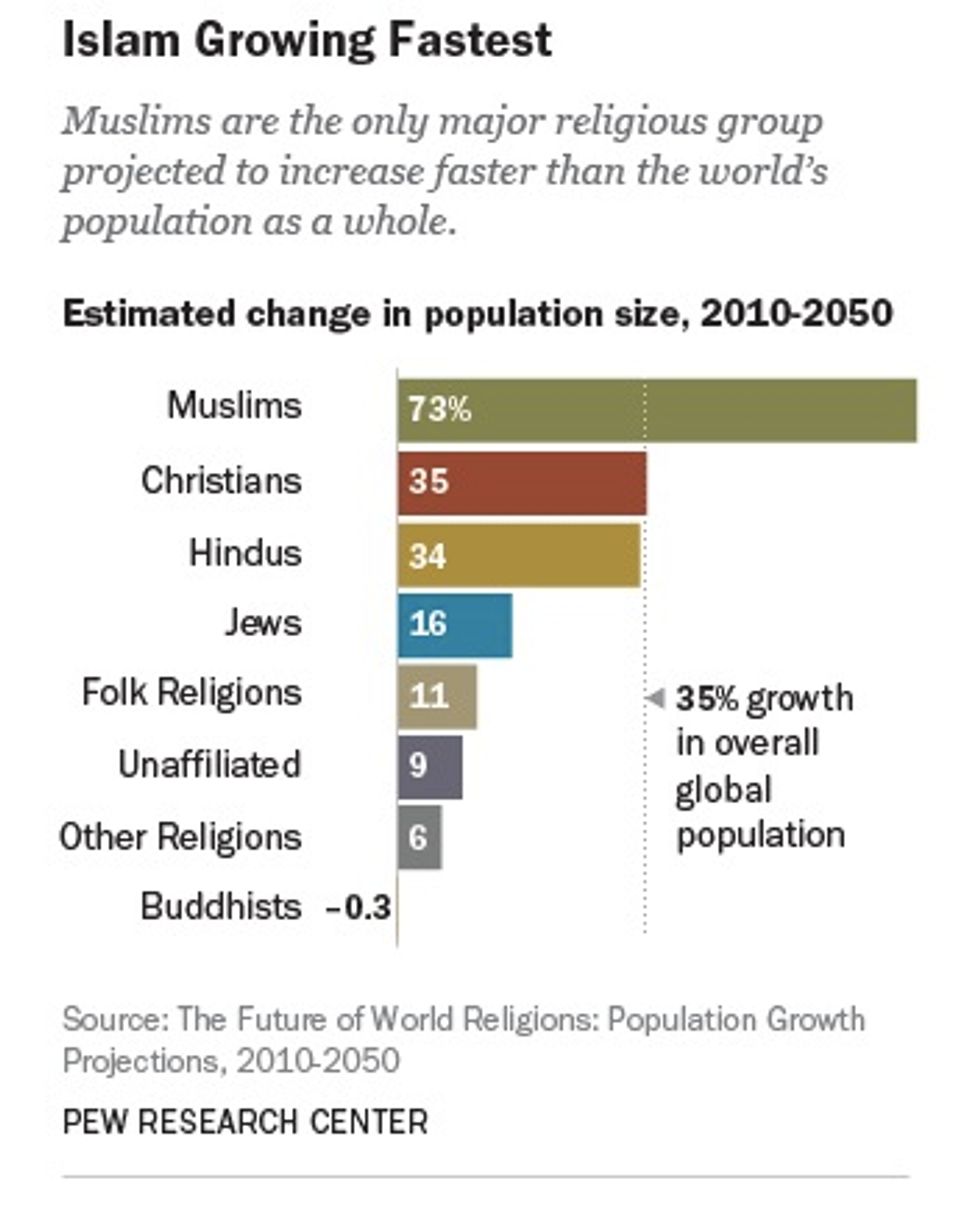 Pew Research Center
In contrast, growth will take place among Jews and Hindus, with Buddhists remaining about the same proportion as they were in 2010. In the end, though, the most notable changes will concern Christianity and Islam.
While Christians accounted for 31 percent of the world's 6.9 billion people in 2010 and Islam made up 23 percent, these proportions are estimated to be equal by 2050, if current patterns hold.
"Between 2010 and 2050, the world's total population is expected to rise to 9.3 billion, a 35% increase," Pew reported. "Over that same period, Muslims – a comparatively youthful population with high fertility rates – are projected to increase by 73%. The number of Christians also is projected to rise, but more slowly, at about the same rate (35%) as the global population overall."
Read more about these projections.
(H/T: Baptist Standard)
--
Follow the author of this story on Twitter and Facebook: