TheBlaze TV's Buck Sexton clashed with CNN commentator Marc Lamont Hill on the air Tuesday over whether there are tenets of Islam that are not compatible with the "values" of the United States.
Hill argued Islam is "premised on some very basic fundamental values that are in line with what America articulates as its own values — what the West articulates as its own values." Responding to comedian Bill Maher's harsh critique of Islam, Hill said the "question of Sharia law" is more complicated than he would like to admit.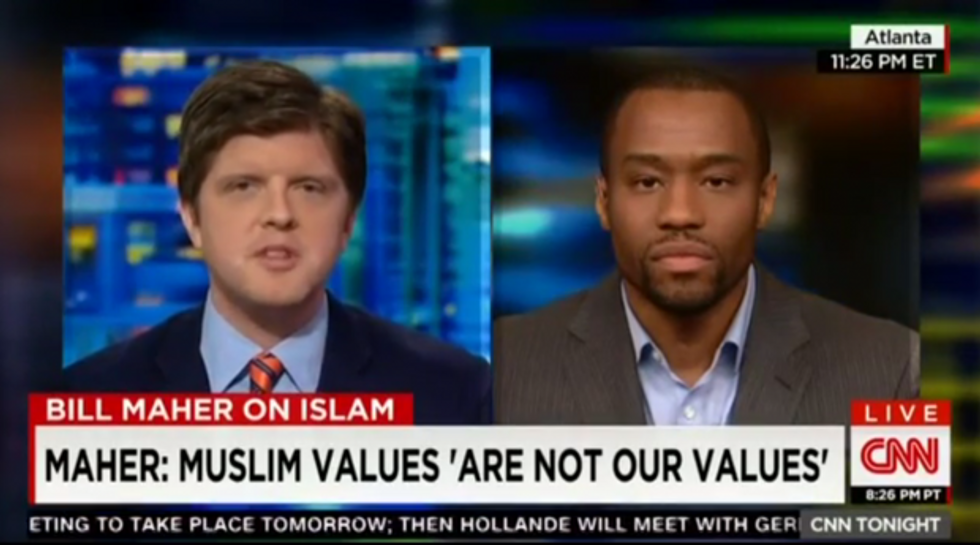 CNN
"So, to say that, somehow, because you have an investment in sharia law means you're somehow a radical, or that you're necessarily anti — anti-growth, anti-democracy, anti-modern — it's just not true," he said.
Sexton pushed back, claiming that there are portions of Islamic countries that make up "tens of millions" of people that are at "odds with liberal values in this country."
"Ideas about the rights of women, the rights of same-sex marriage — these are places where you would think that liberals particularly would be up in arms and very critical of the prevalence of these ideas…that, under normal circumstances, would be considered bigoted by American liberals," he added.
Sexton said liberals have "accepted Islam as part of the victimology class in this country that is, therefore, protected, and is above and beyond criticism."
In response, Hill claimed a poll conducted at a "Ben Carson rally" would return similar results on homosexuality as polls questioning Muslims in making the case that all religions have their problems.
"Now, look, Marc, I think it's important that you brought up other religious traditions," Sexton responded. "Because there is this, sort of, root fallacy within American liberalism and the American left that all religions more or less have some problems — that they're all more or less the same — and that's just, frankly, not true."
(H/T: Newsbusters)
---