The U.S. has been placing some immigrant children who enter the country without an adult into the care of "convicted criminals," according to charges a whistleblower made to Sens. John Cornyn (R-Texas) and Chuck Grassley (R-Iowa).
The unnamed whistleblower claims to be familiar with the vetting process for the placement of immigrant children and said that at least 3,400 out of a sample of 29,000 of the adult U.S. sponsors "have criminal histories that include domestic violence, homicide, child molestation, sexual assault and human trafficking."
In response, the senators are asking the Department of Homeland Security and Department of Health and Human Services for more information on the agencies' review practices before the placement of unaccompanied minors, as well as statistics on the criminal backgrounds of current sponsors.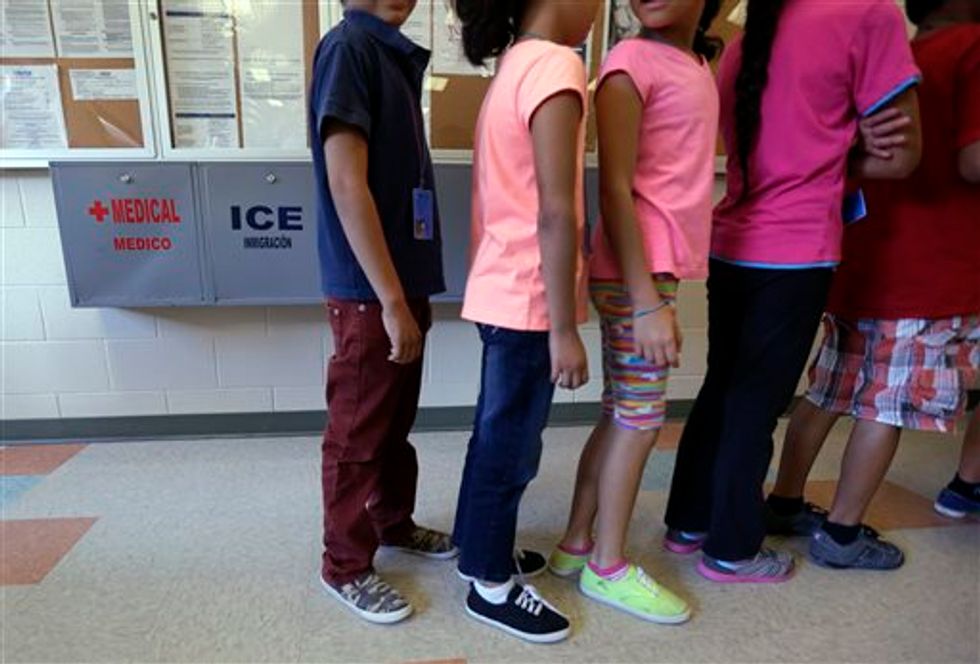 Detained immigrant children line up in the cafeteria at the Karnes County Residential Center, a temporary home for immigrant women and children detained at the border, Sept. 10, 2014, in Karnes City, Texas. (AP/Eric Gay)
"Although the whistleblower claims to have relayed these concerns to supervisors in August of 2015, apparently these individuals have no immediate plans to remove [underage children] from their criminal sponsors," the senators wrote in a letter to Homeland Security Secretary Jeh Johnson and HHS Secretary Sylvia Burwell.
Immigrant children who are "apprehended by the Department of Homeland Security (DHS) immigration officials" are processed near the border by DHS, then passed off to HHS's Office of Refugee Resettlement for placement.
The current system is vulnerable to abuse, Grassley and Cornyn added in a news release, arguing, "The background checks are allegedly often inadequate, leaving children in the custody of potentially dangerous individuals.  Earlier this year federal agents arrested human smugglers who reportedly posed as sponsors to force at least six Guatemalan boys to work 12 hours a day on an Ohio egg farm."