MOSCOW (TheBlaze/AP) — Russian President Vladimir Putin says Turkey still has not apologized for the downing of a Russian warplane or given assurances that "the culprits of this crime" will be punished, as tensions between the two countries continue to flare.
Previously warm relations between Russia and Turkey have soured after Turkey on Tuesday shot down a Russian Su-24 on a bombing mission near the Syria border — an act that has infuriated Russian leaders.
Speaking at the Kremlin on Thursday, Putin complained that he has not received an apology from Turkey nor an offer "to make up for the damages." Russia previously insisted that its plane never violated the Turkish airspace as Turkey claimed.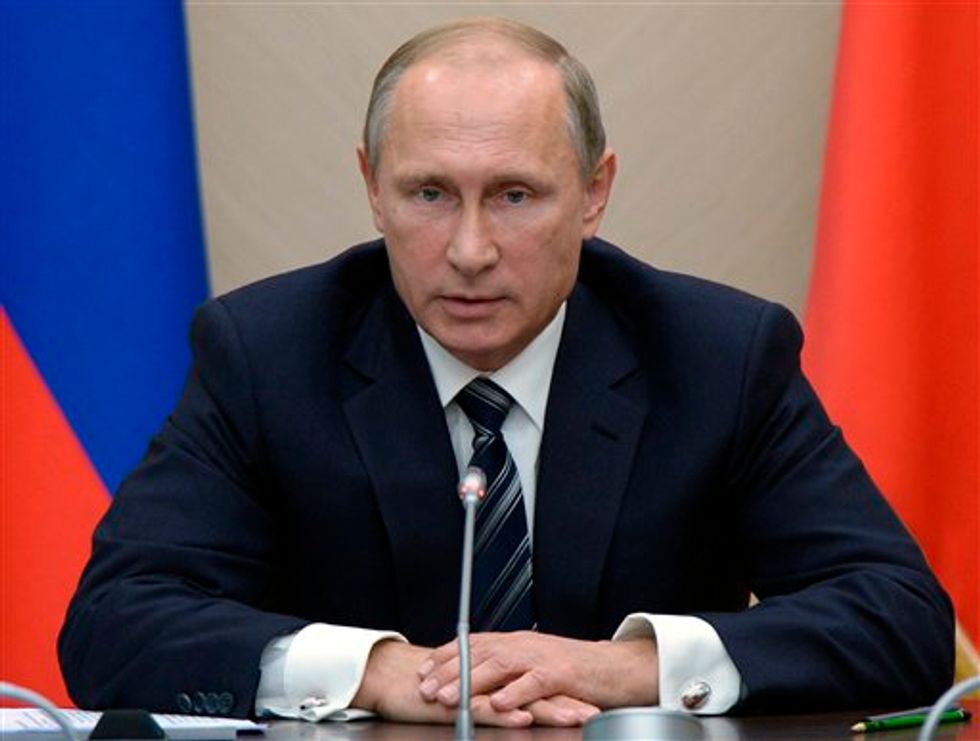 Russian President Vladimir Putin (Alexei Nikolsky/RIA Novosti, Kremlin Pool via AP)
He said he regretted the fact that relations between Turkey and Russia have been driven into a stalemate.
But Turkey released audio recordings of what it says are the Turkish military's repeated warnings to the pilot of the Russian plane before it was shot down at the border with Syria — audio that grows increasingly more agitated.
The recordings, made available to The Associated Press on Thursday, indicate the plane was warned several times Tuesday that it was approaching Turkey's airspace and asked to change course.
"This is Turkish Air Force speaking on guard. You are approaching Turkish airspace," a voice on the recording says in what the Associated Press described as "broken English." "Change your heading south immediately."
The audio is difficult to understand and there is no indication of a response from Russians on the receiving end. The series of 10 audio clips were released by the prime minister's office and sourced to the Turkish Armed Forces.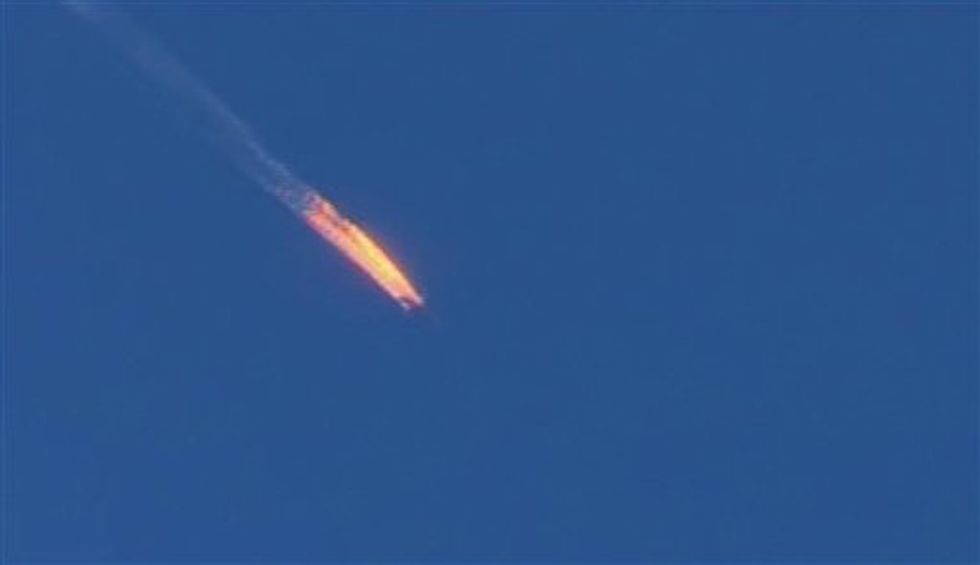 This frame grab from video by Haberturk TV, shows a Russian warplane on fire before crashing on a hill as seen from Hatay province, Turkey, Tuesday, Nov. 24, 2015. Turkey shot down the Russian warplane Tuesday, claiming it had violated Turkish airspace and ignored repeated warnings. Russia denied that the plane crossed the Syrian border into Turkish skies. (Haberturk TV via AP)
Capt. Konstantin Murakhtin, a surviving Russian pilot, has denied that his jet veered into Turkey's airspace "even for a single second," and rejected Turkey's claim that it had issued repeated warnings to the Russian crew.
In a clear indication that tensions are flaring, Russia responded to the release of the audio by deploying long-range air missiles at its base in Syria; these S-400 long-range missiles are reportedly just 30 miles from the Turkish border and are capable of hitting targets within a 250-mile range, Fox News reported.
Russia is also looking to cut economic ties with Turkey.