Republican presidential candidate Sen. Marco Rubio (Fla.) has racked up 19 endorsements from members of Congress — three of which came from the Senate Republican caucus where campaign rival Sen. Ted Cruz (Texas) is not all that popular.
However, Cruz has had some positive polling numbers lately, having surged to second place in recent Iowa polls.
"Rubio was good in the debates and seems to be a good candidate, and though he's not overly experienced, that's an issue with Cruz, as well. Cruz has likewise done very well in the debates and has taken a stronger stand on socially conservative issues," University of Iowa political science professor Tim Hagle told TheBlaze.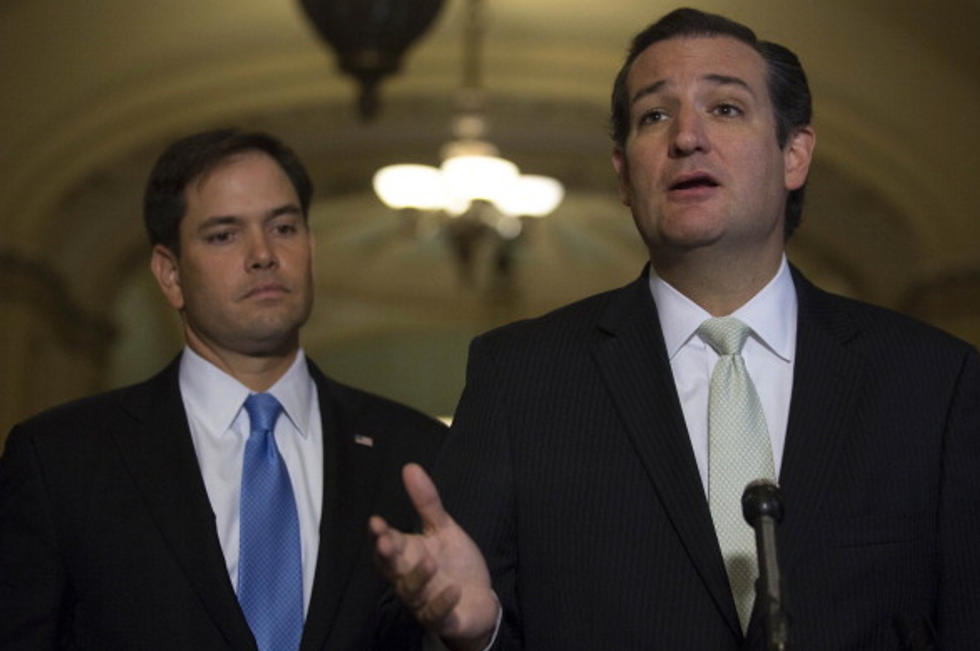 Florida Republican Sen. Marco Rubio, left, and Texas Republican Sen. Ted Cruz (Andrew Harrer/Bloomberg via Getty Images)
Their lack of experience has been likened to that of President Barack Obama before he was elected, Hagle noted, but the two senators still have more government experience than outsiders Trump, Ben Carson and Carly Fiorina.
"Some people who were backing the outsiders are backing up and maybe thinking, we want someone with a little bit of experience in how government works," Hagle added. "As Rubio said, the problem with Obama is not his experience, it's his polices. Rubio was the speaker of the Florida House and Cruz was the Texas solicitor general, so both arguably have more experience than Obama's couple of years in the Senate."
Though he has received endorsements from 11 House Republicans, with six from his home state of Texas, Cruz has yet to pull in a U.S. senator endorsement. "I would suspect Cruz sees that as a badge of honor," Hagle said.
One reason for the surge in endorsements for Rubio — including nods from Sens. James Risch of Idaho, Steve Daines of Montana and Cory Gardner of Colorado — is a fear the party "establishment" has of a Cruz nomination, Politico reported.
"The Republican establishment does increasingly see Rubio as perhaps their best opportunity to win," Geoffrey Skelley, political analyst for the University of Virginia Center for Politics, told TheBlaze. "Rubio contrasts well with Hillary Clinton, and a lot of Senate Republicans still don't like Senator Cruz because of electability concerns."
Cruz has taken on the Republican establishment during his first term in the Senate, pushing the House to defund Obamacare, and leading to a temporary partial government shutdown. He also called Senate Majority Leader Mitch McConnell (R-Ky.) a liar on the Senate floor. This has hardly endeared him to Republicans.
Nominating Cruz would be the "test case" for the argument that Republicans can win if they are willing to nominate a conservative, Skelley added.
"Ted Cruz's track record has a lot to attack, with the government shutdown, but that's not to say Ted Cruz can't win a general election," Skelley said. "But that is a serious concern for a lot of Republicans who see a good opportunity to win since they see Hillary Clinton as very beatable."
While Rubio is running ahead with endorsements, Cruz has a stronger position in the polls, Skelley said. "Rubio hasn't actualized that support, while Cruz is gaining support in Iowa, which is what he needs to do if he is going to make his move."
Former Florida Gov. Jeb Bush remains the overall leader in endorsements, with 29 members of Congress backing him, including Sens. Orrin Hatch of Utah, Susan Collins of Maine and Dean Heller of Nevada. Yet, only seven of those endorsements came since September, whereas all but one of Rubio's backers stepped up since then, so momentum seems clearly on the senator's side in the endorsement primary.
Lately, the two have taken aim at one another over the National Security Agency data collection and Libya policy.
"I stand strongly on behalf of the ability of this government to gather intelligence on our adversaries and our enemies, especially terrorists, but also other nation states. Those keep us safer," Rubio told Fox News. "There are Republicans, including Senator Cruz, that have voted to weaken those programs. That is just part of the record, it is nothing personal."
Cruz said in an interview with Bloomberg News, "Senator Rubio emphatically supported Hillary Clinton in toppling [Muammar] Qaddafi in Libya. I think that made no sense," Cruz told Bloomberg Politics while in Iowa.
Unlike Rubio, Cruz said has refrained from going after Trump. But, on Monday, Cruz said that Trump would not be the nominee. There has been much speculation that if Trump falters or drops out of the race, many of his supporters will go to Cruz.
Hagle, of the University of Iowa, said he doesn't want to write off Trump since it's been done so many times already. But he said from his own observations, Trump doesn't have the same ground game in Iowa as Cruz or even Kentucky Sen. Rand Paul, who has been floundering in national pools.
Despite momentum for any candidate, Trump is still leading in both Iowa and New Hampshire, Skelley pointed out. "It would be bold and premature to count Trump out at this point," Skelley said. "At the end of the day, he's still the leader."