Palestinian Authority President Mahmoud Abbas pledged at COP21, the U.N. climate change conference, Monday to "positively contribute" to international efforts to combat climate change. But it wasn't his environmental agenda that dominated his speech at the international conference in Paris.
Abbas' primary focus was to bash Israel over alleged violations against Palestinians.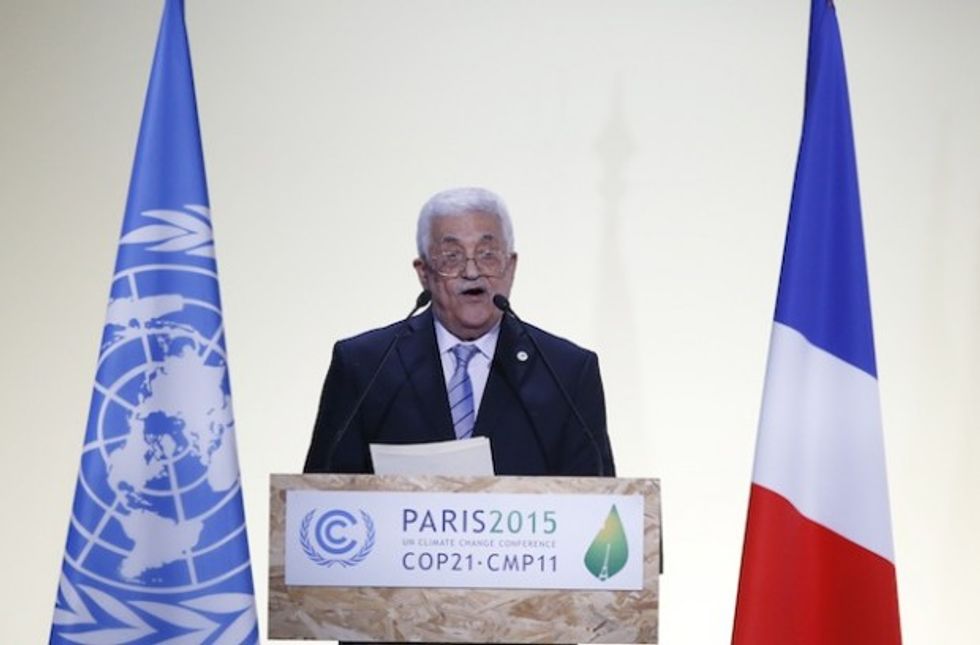 Palestinian President Mahmoud Abbas delivers his statement at COP21, the U.N. climate change conference, in Paris Monday. (AP Photo/Francois Mori)
According reporting from the official Palestinian news agency Wafa, Abbas devoted much of his speech to issues having nothing to do with climate change, the main objective of the huge gathering of world leaders. Here's the climate change part of the speech, as reported by Wafa:
Abbas addressed the issue of climate change, saying it has become a national challenge for all countries all over the world.

He said, "The state of Palestine, which is a full member in many international organizations and agreements, continues its preparations to join the United Nations Framework Convention on climate change, and to simultaneously and positively contribute and hold its responsibilities as a member state in the near future."

Abbas informed the audience about Palestine's serious steps to tackle climate change and to protect the environment. He said Palestine has made considerable progress in enacting laws and necessary strategies for this purpose.
The Palestinian Authority leader accused Israel of several violations, including confiscating natural resources — claims Israel vehemently denies.
"Our resources are being usurped, our trees are being uprooted, our agriculture is being destroyed," Abbas said.
The Palestinian leader said that Israel has "undermined all peace chances," and he threatened to abandon his own commitments to past peace agreements with Israel. He also called on the international community to pursue "freedom and independence" for Palestinians.
At the same time, Abbas said, "Our hand is still extended in peace to our neighbors."
While at the conference, Abbas shook hands with Israeli Prime Minister Benjamin Netanyahu for the first time in years in an unplanned group gathering. (The moment was captured on camera but was unwittingly "photobombed" by  President Ikililou Dhoinine of Comoros.)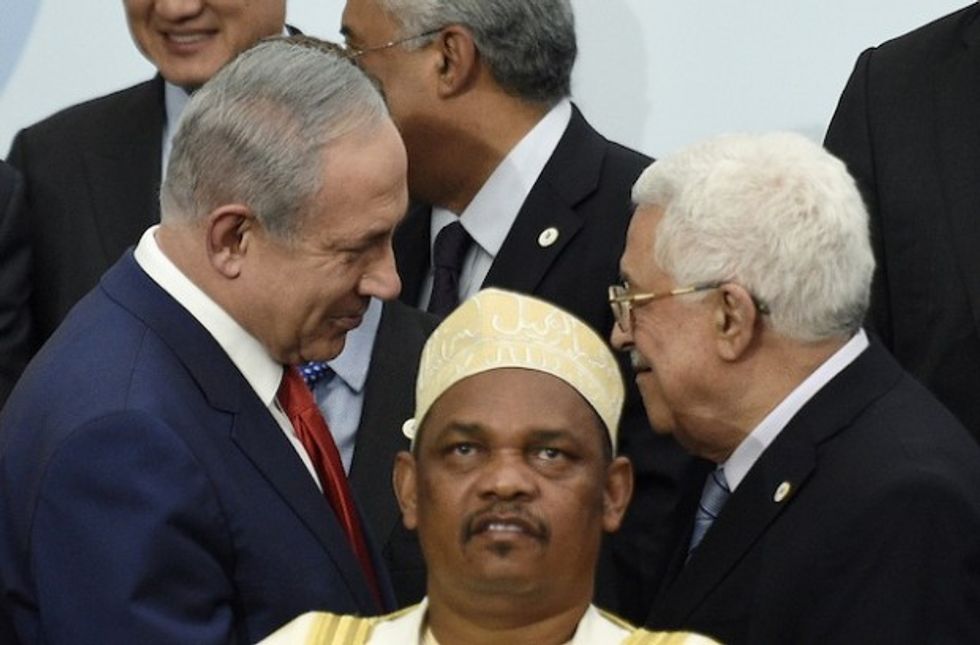 Israeli Prime Minister Benjamin Netanyahu, left, talks with Palestine's president Mahmoud Abbas, right, before a group photo as part of COP21, the U.N. climate change conference, in Paris, Monday. The two men shook hands for the first time in years, but the photo handshake was accidentally blocked by President Ikililou Dhoinine of Comoros. (Martin Bureau/Pool Photo via AP)
Netanyahu later told reporters the handshake "was purely protocol, not a working meeting," though he added he is always willing to hold peace talks with the Palestinians.
"It's important for the world to see that we're always willing to talk. But, on the other hand, I have no illusions about Abu Mazen," Netanyahu said, using Abbas' nickname.
Since September, Israel has faced a wave of multiple daily Palestinian terrorist attacks, which it has blamed largely on the Palestinian Authority for inciting.