Phones have been ringing off the hook at the Twin Cities Salvation Army after an anonymous couple dropped a $500,000 check in a kettle outside of a local supermarket in Rosemount, Minnesota — the biggest check that the local branch of the organization has ever received.
And many Salvation Army staffers believe that the timing of the donation was a "God thing," as the Twin Cities branch — unbeknown to the anonymous donors — was $523,000 down in collections when compared to the same time period last year.
"We all call it a God thing. God knew what we needed and he gave it to us," Annette Bauer, communications manager for the Twin Cities Salvation Army, told TheBlaze on Wednesday. "To have that happen — you can't write this stuff!"
Salvation Army bell ringer volunteers William Schmidt (L), who is on his 20th year volunteering, and his grandson Bubba Wellens (R) ring their bells hoping for a donation into a kettle is made outside a Giant grocery store November 24, 2012, in Clifton, Virgina. (AFP/Getty Images)
But the good tidings didn't end with the $500,000 check, as the story quickly spread through national news, leading hordes of people from around the nation — and world — feeling so inspired by the couple's act of generosity that they reached out to the Salvation Army to find out how they, too, can help out this holiday season.
"We have been fielding calls from all over the country asking to be bell ringers," Bauer said, noting that she's even received calls from Sweden.
In addition to adding new bell ringers in the local area as a result of the generous gift, interested parties in other cities and towns around the U.S. who called the Twin Cities office have been connected with local branches of the Salvation Army.
"That's been really fun to have these people wanting to bell ring. Talk about inspiring generosity," she said. "There's so many people who don't have $500,000, they don't have $50, they don't have $5, but they can give that time."
Bauer said that calls for requests to volunteer as bell ringers have at least tripled since the $500,000 donation was given on Saturday.
"It just shows you that this wasn't just a coincidence that people started calling," she said. "This was directly related to this story."
It appears the anonymous couple's goals of inspiring others and honoring one of their fathers who served in World War I and was fond of the Salvation Army have been recognized, as the donation has gone viral and dramatically moved people to action.
The couple, who do not wish to be named publicly but who are regular donors to the Salvation Army, recalled their own past struggles with money, remembering how they once relied on grocery store scraps to get by.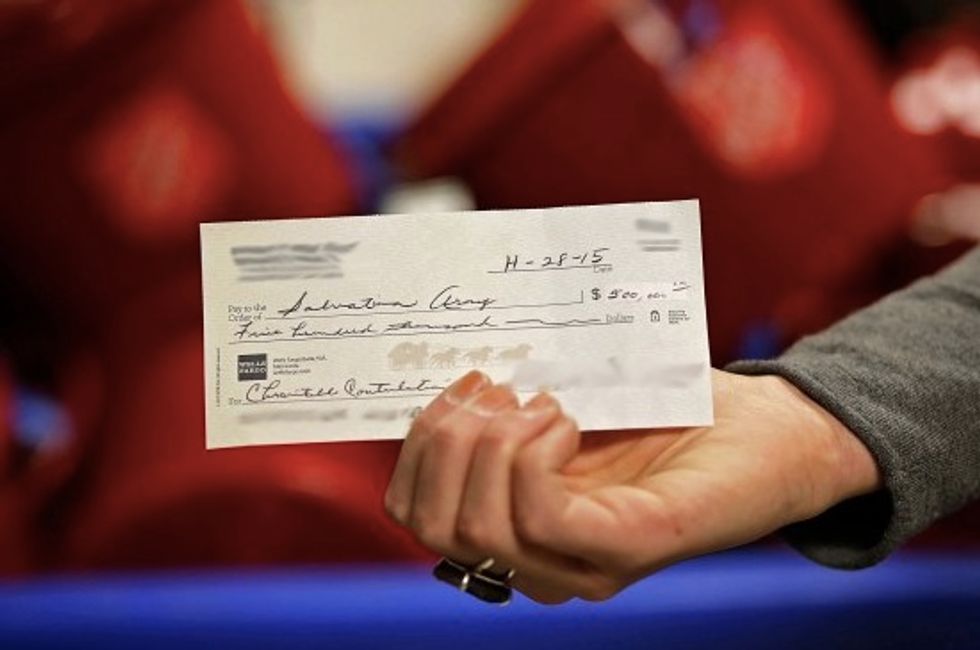 Salvation Army
"You get to a point in life where it's time to take care of others, the way you were taken care of," they said.
Major Jeff Strickler, commander of the Twin Cities Salvation Army, said that he's stunned by the generous donation.
"We are simply stunned and honored to have received such a generous gift," he said. "This is a true blessing and it could not come at a better time for The Salvation Army and the people we serve."
The goal for the Twin Cities Salvation Army is to raise $11.6 million this holiday season, and while Bauer said that they "still have a way to go," the generous check has clearly sent the organization on its way.
(H/T: KTLA-TV)
--
Follow the author of this story on Twitter and Facebook: