Lt. Gen. Michael Flynn, former head of the Defense Intelligence Agency, says the Obama administration dismissed initial warnings about the Islamic State because it did not meet a "particular narrative" the White House needed to win an election.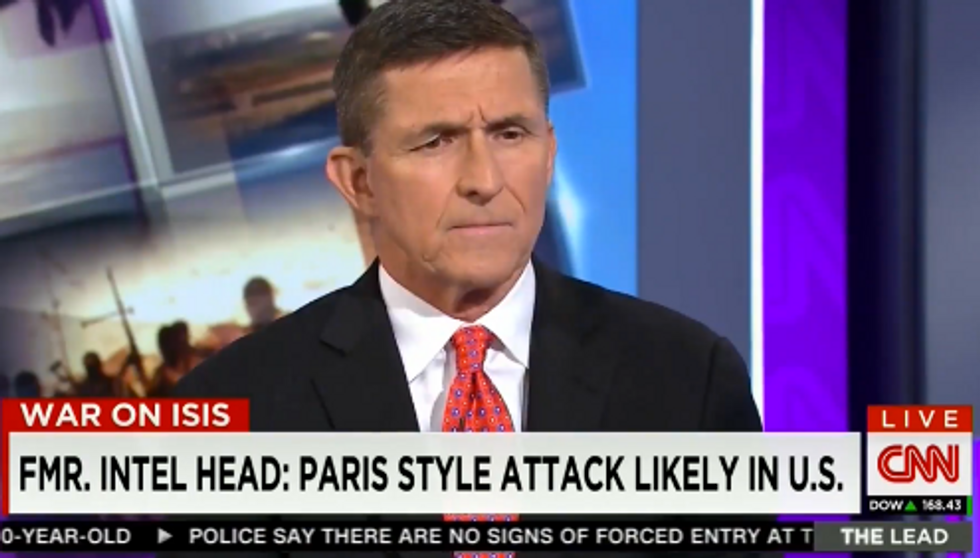 Image source: CNN
Flynn was asked by CNN's Jake Tapper Tuesday about a report put out by the agency in 2012, which seems to have predicted the rise of the terrorist organization.
"The deteriorating security situation in Iraq and Syria could lead to the declaration of an Islamic State, through its union with other organizations in Iraq and Syria, which will create grave danger in regards to unifying Iraq and the protection of its territory," the report read.
Tapper then noted, "It was not long after [the DIA] issued that report that President Obama referred to ISIS as the 'jayvee team."
"Do you feel as though your warnings were ignored?" Tapper asked.
"I think that they did not meet a particular narrative that the White House needed, and I'll be very candid with you," Flynn responded. "I believe that the people who were around the president, his sort of inner circle that were advising him, I think advised him incorrectly."
Asked what that narrative was, Flynn responded, "I think the narrative was that Al Qaeda was on the run and bin Laden was dead —"
"The election narrative?" Tapper interjected.
"Yeah," Flynn said.
(H/T: Mediaite)
–
Follow Jon Street (@JonStreet) on Twitter