The Ted Cruz presidential campaign is enthused by the recent attack from the camp of Democratic front-runner Hillary Clinton, which went after the Texas senator who's currently surging in Iowa polls.
Combatting the Democratic "war on women" theme used in the 2012 election, Cruz said this week in Iowa that he has "never met anybody — any conservative — who wants to ban contraceptives."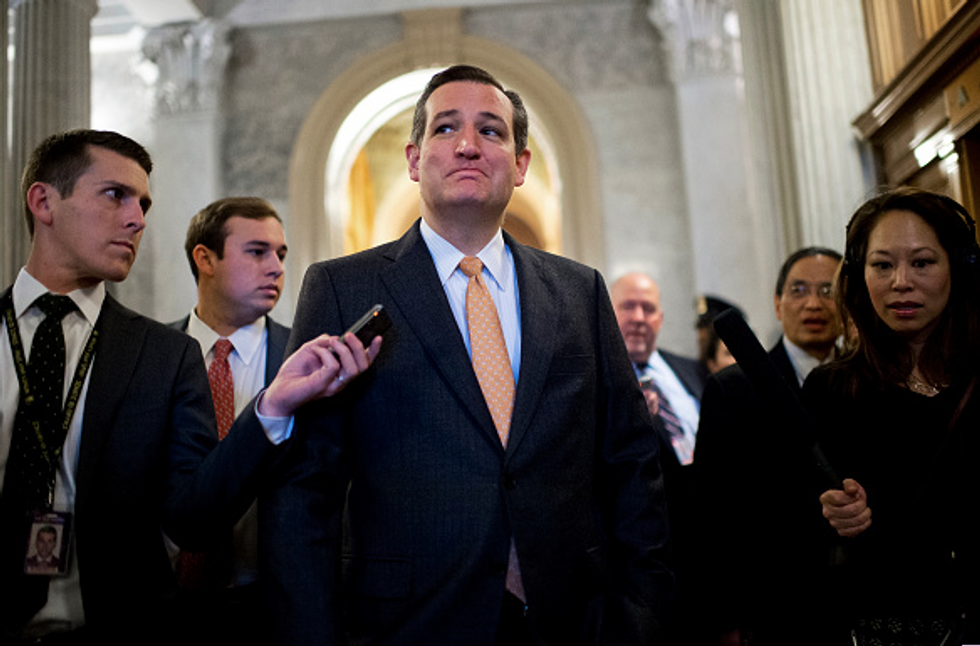 Sen. Ted Cruz (R-Texas) talks with reporters after the Senate Policy luncheons in the Capitol Tuesday. (Tom Williams/CQ Roll Call)
In a fundraising email to supporters, the Clinton campaign asserted, "Hey, Ted Cruz? Let us introduce you to one conservative trying to limit access to contraceptives. His name is Ted Cruz." The message then went through assorted Cruz comments that the campaign says back up that claim. The message concludes by saying, "Anyway, Ted Cruz, thanks for your input, but we're going to stick with the candidate committed to protecting reproductive health."
The email cited a comment from Cruz as a Senate candidate in 2012, when he said he would back legislation to recognize a fertilized human egg as a legal person.
The message also noted Cruz's support for the Hobby Lobby decision and his vote against a bill that would, according to the Clinton campaign, "ensure that employers cannot interfere in their employees' birth control and other health care decisions."
And on Oct. 28, the Clinton email said, Cruz vowed to "continue to lead the fight in the U.S. Senate to defund Planned Parenthood."
Cruz is a close second to Republican frontrunner Donald Trump in Iowa, the first-in-the-nation contest, and has picked up momentum nationally, according to a new Quinnipiac poll.
"The Clinton team must be reading the same polls we are that show Cruz now as a front-runner," Cruz national campaign spokesman Rick Tyler told TheBlaze. "So it is not surprising she would attack. That's all she can do, because she has no ideas of her own, and she cannot defend her horrific record as secretary of state that led to the rise of ISIS. The problem she has with attacking is that there is no one left who finds her credible or trustworthy."
The Clinton campaign did not immediately respond to inquiries form TheBlaze.