Police and family members are searching for a young Hollywood visual effects producer who hasn't been seen since he left work last week without his wallet, laptop or other belongings.
Eric Kohler, 27, has worked on such movies as "The Avengers" and "Grand Budapest Hotel." According to Fox News, officials say he drove his new black Range Rover from his job Nov. 24. And his cell phone records show that he visited a Food 4 Less store before the phone was shut off.
"And he literally disappeared," his father, Tony Kohler, told KNTV-TV. "It's heartbreaking. It's damn heartbreaking."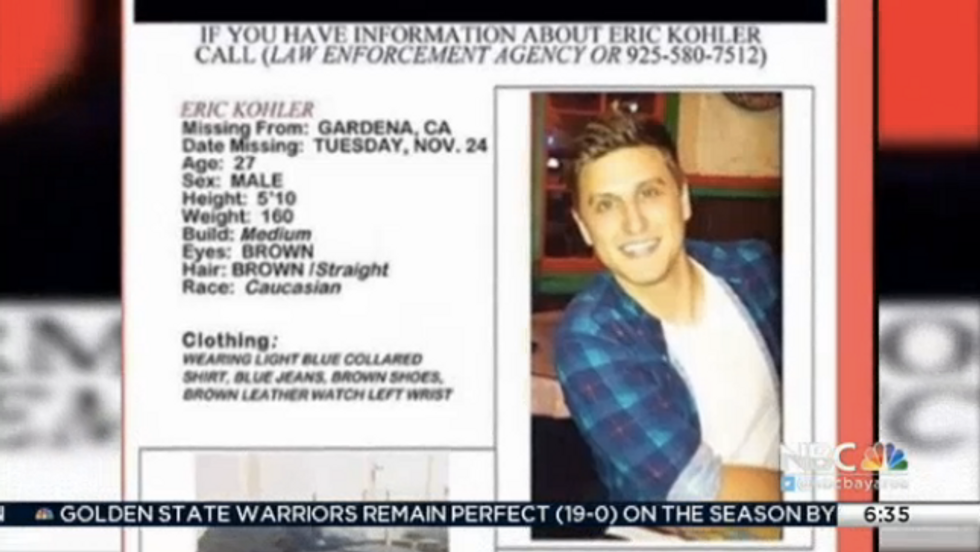 Image source: KNTV-TV
His mother told KNTV that he was in the middle of working on a project, and his disappearance is unusual. Kohler missed both the Thanksgiving holiday and a huge deadline at work.
"He had big ambition to work hard and that's what he's been doing and something bad happened," she said.
Tony said he's hoping that his son just needed to get away for a bit but said that there are just too many red flags — specifically his leaving behind so many of his personal belongings.
KNTV reported that Kohler was last seen wearing a light blue short-sleeved shirt, skinny jeans and brown suede shoes, as well as a brown leather, chrome-plated watch.
The Los Angeles Times reported that police do not believe foul play is to be suspected.