SAN BERNARDINO, Calif. (TheBlaze/AP) -- San Bernardino shooter Syred Farook was apparently radicalized and in touch with more than one international terrorism suspects, according to law enforcement sources cited by CNN.
Farook reportedly communicated with overseas terror suspect over the phone and using social media.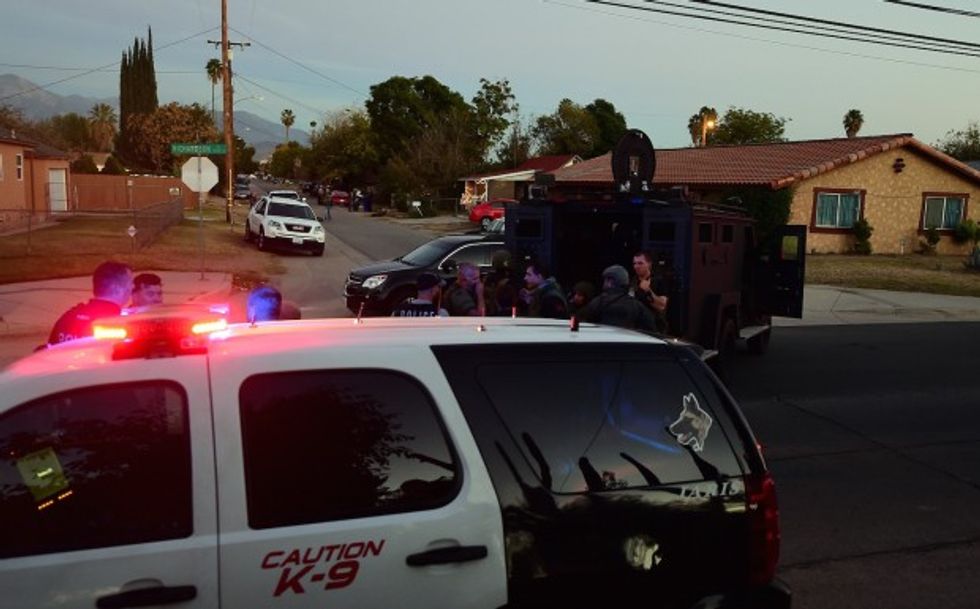 FREDERIC J. BROWN/AFP/Getty Images
The network also reported that Farook traveled to Saudi Arabia at least twice prior to Wednesday's shooting that left 14 people dead and at least 17 injured. During one of those trips, Farook reportedly brought home Tashfeen Malik, his wife and parter in crime, on a "fiance visa."
When asked about the report during a Thursday press conference, an FBI official said investigators are still "working through" details surrounding Farook's possible terror ties.
Farook and Malik were later gunned down in an SUV a few miles away in a furious shootout with police.
President Barack Obama said on Thursday that the San Bernardino shooting could be related to terrorism, but could also be "workplace related."
Farook was born in the U.S. to a Pakistani family, was raised in Southern California and had been a San Bernardino County employee for five years, according to authorities and acquaintances. San Bernardino Police Chief Jarrod Burguan said he had no information on Malik's background. Relatives said Farook had traveled to Saudi Arabia to meet his wife.
Police and federal agents for a second day searched a home in neighboring Redlands, about 7 miles from the massacre at the Inland Regional Center. Investigators didn't immediately say if the couple had lived there. Public records show it may be the home of a Farook family member.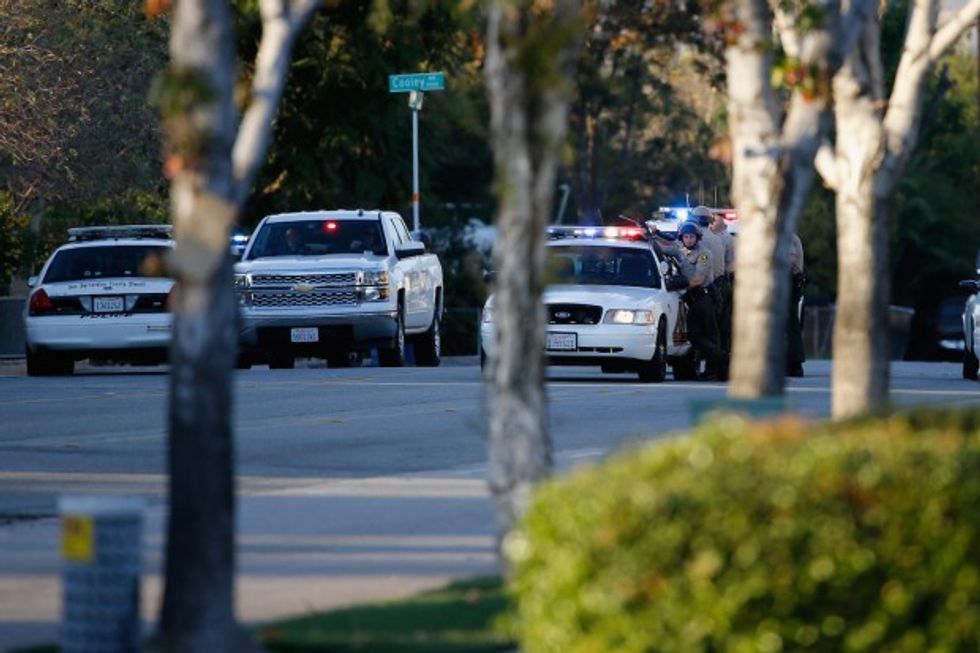 Sean M. Haffey/Getty Images
The attackers invaded the center about 60 miles east of Los Angeles around 11 a.m., opening fire in a conference area where county health officials were having an employee banquet. Farook attended the banquet, then left, then returned with murderous intent.
"They came prepared to do what they did, as if they were on a mission," Burguan said.
Farook and Malik were found with assault rifles and semi-automatic handguns, and were wearing "assault-style clothing" with ammunition attached, authorities said.
Three explosive devices - all connected to one another - were found at the social services center, police said.
Federal authorities said the two assault rifles and two handguns used in the violence had been bought legally, but they did not say how and when they got into the attackers' hands.
---