The Senate voted Thursday evening for the first time ever to repeal President Barack Obama's signature health care law, passing the measure 52-47.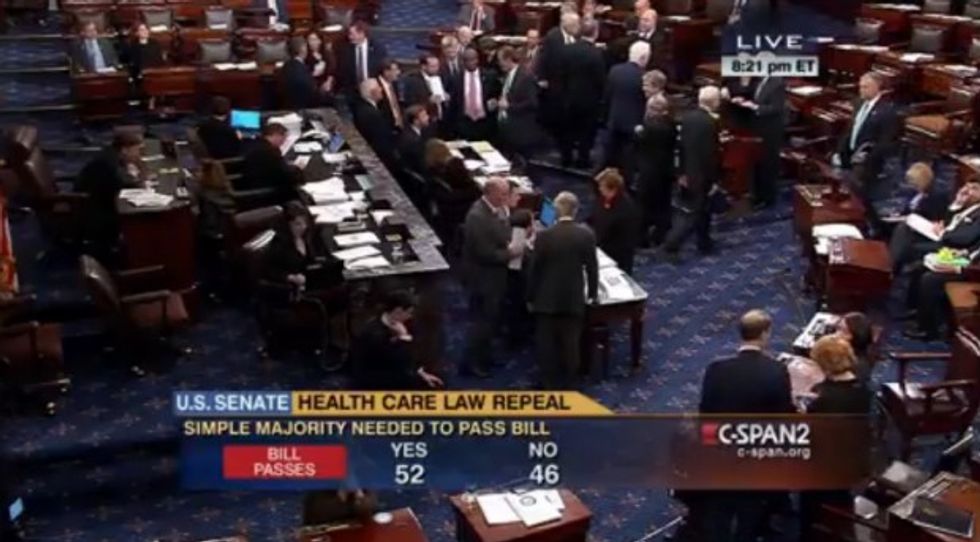 Image source: Screen grab via CSPAN
The bill will now head to the House, where it should win easy approval from the Republican majority.
Congress will then send the measure, which also strips federal funding for Planned Parenthood, to Obama who will veto it.
This marks the first time the Republican controlled Congress has ever sent a bill to repeal Obamacare to the president's desk.
Because of Dem filibusters, Senate has never before debated/voted on bill to repeal Obamacare or defund Planned Parenthood before tonight

— Chad Pergram (@Chad Pergram) 1449192743.0
In a statement, Sen. Ted Cruz (R-Texas), who has been relentless in his efforts to repeal the Affordable Care Act, said the vote represented a "significant step towards repealing every word of Obamacare."
"Since before my first day in office, I pledged to do everything within my power to repeal Obamacare," he said. "And over the last three years, I've worked day and night to do exactly that, sometimes to the dismay of those in Washington."
"This bill repeals as much of that failed law as we can under arcane Senate rules and the narrow guidelines of the budget," Cruz added. "I am also encouraged that this bill prohibits taxpayer funds from going to abortion-providers. This bill is a substantial improvement over the original House bill, and I'm grateful to Senate conservatives and Senate leadership for joining me in making it so."
Planned Parenthood, however, saw things differently, releasing a statement calling the measure a "cynical political attack."
"In spite of these political attacks, we're focused on providing high-quality, compassionate health care to people all across this country. We won't be deterred by violence, smear campaigns, or cynical political attacks like this."
—
Follow the author of this story on Twitter and Facebook: